Dear Friends,
I don't know about you, but I'm really getting tired of all the divisive election ads on TV. If I hear one more ad discussing "the economy" (and putting down the other guy) I think I'm going to scream! It's enough to make you want to hide under the bed till the election is over!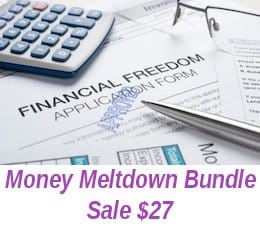 But that will not help me, you, or anyone else out there deal with our PERSONAL economies. While we may not be able to control our respective countries national economies, we can control our own personal economies!
Getting your expenses under control is the first key to economic freedom and security. It's not as hard as you think either and this week's webinar guest bestselling author Mary Hunt got herself out of over $100,000 in debt!  She knows exactly how to fix your personal economy!
I want to give you an opportunity to hear the audio and watch the webinar because I believe there is great information for everyone, regardless of your financial situation. Here's the replay link to go hear it: http://InstantTeleseminar.com/?eventid=33501792
And because this week's webinar was so informative and the tools we jointly offered so powerful (and inexpensive—75% off!), I wanted to give you the opportunity to get this package.
The retail value is over $100; we have it for just $27. Why? Because we want to empower you with the right tools to get the job done quickly, efficiently and well.
You can do so by going to this link and just getting the Money Meltdown bundle: http://savingdinnershop.com/moneymeltdown/
OR
You can listen and watch the webinar and get some additional value at no cost (the link for the bundle is there, too): http://InstantTeleseminar.com/?eventid=33501792
Getting your personal economy in order should be a priority for all of us. You need tools to make it happen; that's why we have this amazing offer. To me, telling someone to get their finances together without any help is like telling someone to garden with a spoon! It's a lot easier with the right tools to get it done!
Take your pick—webinar: http://InstantTeleseminar.com/?eventid=33501792 or go directly to our sales page and take a look at all the goodies: http://savingdinnershop.com/moneymeltdown/
Love,
Leanne
PS: One of the best strategies for saving money is getting your food bill under control! Let's face it, your mortgage or rent payment stays the same, you might be able to adjust your utilities slightly by adjusting your thermostat and hanging your clothes to dry, but the biggest impact you can have on your budget is FOOD! We have plenty of help for you! http://savingdinnershop.com/moneymeltdown/
Comments
comments