Dear Friends,
Can you believe it? We're almost done with summer!
It won't be long before the cooler, shorter days of fall are upon us, but till then, we're still in the midst of summer (even though I'm seeing plenty of sweaters and such in the stores these days!).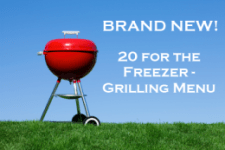 To celebrate the end of summer and to make room for some fun new stuff we have brewing, we've got an ALL NEW 20 for the Freezer Grilling Menu Volume 2 (to be honest, you can use it year 'round, I know I will!).
If you're not familiar with our Freezer Menus, here's a quick synopsis: assemble raw, prepared ingredients into zipper-topped freezer bags, freeze then thaw when you need 'em, and cook up fresh in it minutes! We give you a master list of ingredients, directions and you put them all together at one time—isn't that awesome? Dinner's in the freezer, y'all!
Remember, these recipes are freshly cooked; your family won't know they came from the freezer! In other words, no twice cooked, watery casseroles—nothing that resembles a frozen item in the red box from the grocery store. We're talking flavorful and delicious!
Our newest 20 for the Freezer Grilling Menu has some great new recipes in it, like Spicy Grilled Pineapple Chicken, Grilled Thai Chicken with Jasmine Rice, Mediterranean Style Flank Steak Salad, Sweet and Spicy Mango Shrimp and Scallops and Easy Grilled Jerk Pork Tenderloin, just to name a few! ($20 value)
We put it together with our original Freezer Grilling Menu, also with 20 ready-for-the-grill recipes—this delicious menu includes Greek Chicken, Garlic Cashew Chicken, Thyme Rubbed Tenderloin, Mushroom Swiss Burgers, Apple Stuffed Pork Chops and Coconut Lime Shrimp—just a taste of these fabulous recipes to get your mouth watering! ($20 value)
BOTH menus are yours for just $27! That's spectacular savings… but, since we're in the mood for fall and are ready to get to the next cool season, we've got a gigantic bonus you will not believe. Check this out:
Six amazing bonus summer menus are now yours when you get our two (2), 20 for the Freezer Grilling Menus! That means you get:
*Summer Grillarama: Rubs, marinades, side dishes, slaws, salads and potatoes–all appropriate for hot weather cooking, all delicious.
*Summer Salads Volume 1: 10 delicious main course salads, with 3 bonus dressing recipes designed to help you keep the kitchen cool.
*Summer Smoothies Volume 1: 14 easy to make smoothies
*Gourmet Salads: 9 fabulous side salads that go with any of your grilled offerings. (Only available in this offer, it's in the vault!)
*Scrumptious Salads: 5 more delectable main course salads,
*Summerama: 20 mouthwatering sandwiches, slaws and summer soups too!
Here are some of the recipes: Mexican Spice Rub, Melon Slaw, Steak and Spinach Salad with Warm Bacon Dressing, Winter Fruit Smoothie, Chinese Cabbage Salad, Spring Grilled Chicken Salad, Monte Cristos, and Chilled Cream of Asparagus Soup.
That's 109 recipes in all (just for this bonus)!
All with serving suggestions, nutritional information and grocery lists as appropriate… altogether this bonus would be $62, retail.
But it's zero cost to you when you get our fabulous 20 for the Freezer Grilling Bundle! Get it here!
What are you waiting for? Now is the time… get yours today!
Love,
Leanne
Comments
comments