Dear Friends,
Christmas will be here in less than NINE WEEKS! Catch your breath…I know you just fell out of your chair! Can you believe it? Yes, the holiday season is breathing down our proverbial necks!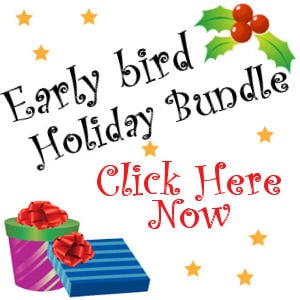 In the spirit of the holidays, we're excited to offer our Early Bird Holiday Bundle! Nothing is more wonderful than holiday treats, crafts and a touch of homemade fun for the family. Plus, you'll save yourself big time money making gifts this year. Nothing says loving like a homemade gift!
Our holiday bundle includes:
Christmas Cookie Exchange Volumes 1 and 2 ($20 value)
Holiday Gift Giving Jars Volumes 1 and 2 ($20 value)
Home-baked Holiday Mailer Volumes 1 and 2 ($20 value)
Holiday Treats Volumes 1 and 2 ($20 value)
Our Christmas Cookie Exchange includes 24 delectable cookie recipes (12 in each volume), a cookie exchange planner complete with a timeline, cookie invitation and tips for success on how to host this fun party. Be the hit of the party when you walk in with yummy concoctions like Cranberry Tarts, Macaroon Kisses, S'mores Cookie Bars and Creme de Menthe Brownies!
We also have our terrific Holiday Gift Jars with 20 recipes for gift giving in a jar. Recipes include Pasta E Fagioli Mix, Sooner Steak Rub Mix, Pistol Pete's Cornbread Mix, Cocoa Cranberry Nut Bread Mix, Spicy Salsa Mix and Marshmallow Mint Cookie Cluster Mix… just to name a few!
Our Holiday Treat Menus are awesome–we have recipes for 10 candies, 10 quick breads and 3 bonus cookie recipes, along with a shopping list so you can get your gifts done early. These recipes all work for mailing too!
ALL EIGHT of these sell for $10 each, but today we have them all together for just $37!! That's a savings of over 50%! — You're getting half of them free!!  Also, these products are not available in our shop right now, so you can only get them here!
Unbelievable, right? Well, since we are in the holiday mood over here at Saving Dinner, we will throw in the Celebration for the Freezer Menu (retails for $27) absolutely free!  This menu includes recipes and instructions for hassle-free meals for Thanksgiving, Christmas, Easter and more!  From baking to shopping, wrapping, and giving, our holidays can be far from peaceful. This year, we'd like to help make it a bit easier. With our Celebration for the Freezer Menu, you can check Holiday dinner off your list way ahead of time! This menu was developed to give us all a break.
That's it for this sale, don't put it off. We will not have these bundled together with such a great savings again this year! Don't delay, get yours today! Click here and let the holiday savings begin!
Love,
Leanne