Dear Friends,
Have you ever had one of those mornings that you had planned to use your crockpot to make dinner, but you ran out of time? Now what are you going to do? Is that crockpot meal you had planned to make going to go to waste or have to wait for another night? What if your pressure cooker could actually save your crockpot dinner when you got home?! How cool would that be??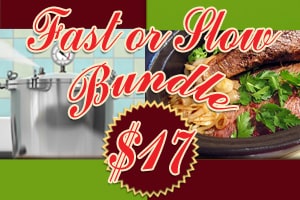 Introducing volume 2 of our popular Fast or Slow eCookbook! If you need dinner fast or you need it slow, it doesn't matter, we've got it both ways! Let me explain just a bit more…
Here's how it works – you choose what you want to eat then prepare your dinner FAST in your pressure cooker or take the SLOW road and let it simmer all day in the crock cooker. Either way we've got you covered with our Fast or Slow eCookbook. 25 mouthwatering recipes with two cooking methods each (one for the pressure cooker and one for the crock cooker) to help you get dinner on the table at whatever speed you choose!
Here's a few of the delicious recipes you'll find in this spectacular eCookbook: Mediterranean Style Chicken, Ginger Lime Cilantro Pork Tenderloin and Cajun Shrimp Stew to name just a few of these yummy recipes!
You get all of this for just $17 but wait there's more… there's ALWAYS more! If you grab a copy of our new Fast or Slow eCookbook, Volume 2 you'll also get our Fast or Slow eCookbook, Volume 1 absolutely FREE! How does Macaroni and Cheese, Beef Bourguignon, and Potato Leek Soup from Volume 1 sound? Mmm-hmm. Thought you'd say that!
All in all, it's a slam dunk dealio: a $34 value for just $17!!
Remember, this delicious bundle is only available for a short time so grab it fast! Click Here Now!
Love,
Leanne
Comments
comments