Dear Friends
Yep, it's that time of year again! Time to pull the cover off that wonderful piece of cooking equipment… the grill!! You've heard it softly whispering your name at the first hint of warm weather. Now you have my permission to break that baby out!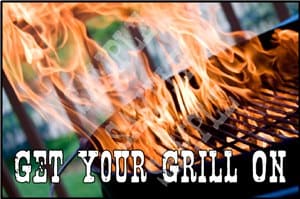 Our smokin' Summer Grillerama menu should be in everyone's possession. Seriously, this ebook has over 35 marinades, rubs and summer side dish recipes! With so many options, you can mix and match to your heart's content and never serve the same thing twice! It's like having your summer grilling and entertaining all wrapped up!
And if you are getting tired of the same old salads (chef salad anyone? yawn…), we've got quite the solution for you! Our Summer Salads (volumes 1 & 2) will blow your mind. You'll be sinking your teeth into amazing main course salads like Blue Cheese Steak Salad, Seafood Cobb Salad and Curried Chicken Salad. Is your mouth-watering yet? How about a Buffalo Chicken Salad or an Avocado Bacon Salad! Yes I said bacon–meat candy, yum! 20 recipes plus 8 bonus dressing recipes (say good bye to expensive bottled dressings), you'll get your summer handled in one quick swoop.
To add more thrill to your grill, I'm also throwing in our Five for the Freezer Chicken – Volume 2 (yep… all grilling recipes) and our Five for the Freezer Burgers! These menus will  have you crowned as the Grill Queen (or King) with recipes like Far East Grillers, Carolina Style Grilled Chicken, Sicilian Burgers and Pizza Burgers. Both of these scrumptious menus retail for $5 each.
Let's do some quick math–all of these summer-ready menus would normally retail for $47, but TODAY I'm offering them for a hot deal of only $27! That's 20 bucks off! Woo hoo!
Get your grill on now!! !!! ==> $27 <== Don't wait, click here ===> $27
Love,
Leanne
Comments
comments