Dear Friends,
We're having a meltdown in this heat! The thermometer is over 90 degrees and temperatures are rising. Many years ago, the lady at the dry cleaners was complaining about the weather to me. She said, "This humility is making me evil!" and fanned her face furiously. I about died. I knew she meant humidity, but "humility" was what she said. My friends Filmore and Sandy glommed onto the phrase and it has became our running summer joke.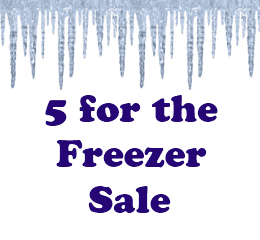 Is the humility making you evil where you live? Want some relief? Got it right here! In the form of our fabulous freezer menus; we're cleaning out our collective freezers and making way for some all new Freezer Menus! (you'll have to wait on the new ones!)
What do we have? Glad you asked–check this OUT!
First off, you need to know: WE ARE RETIRING ALL 5 For the Freezer Menus!
So we've put together all 23 (twenty-three) Five for the Freezer menus with every meat, chicken and fish you can think of, all kinds of preparations and a multitude of delicious kitchen tested recipes. If you were to buy them separately, it would cost you $115. TODAY, $47!! That's almost $100 off!!! (Click Here to learn more about the specific 5 for the Freezer menus.)
Now remember our Freezer Menus aren't just recipes; they are entire plans, DIY guides to assembling meals, putting them in the freezer, thawing them and cooking them fresh, just like those expensive dinner assembly franchise places. You use your fresh, quality ingredients, our guide on how to do it, and the next thing you know, you've got dinner in the freezer! It's a FABULOUS way to do dinner!
Check out these mouthwatering recipes: Under the Tuscan Sun Chicken, Apple Pecan Chicken Roll-Ups, Da Vinci's Meatloaf Supper, Stuffed Baked Pork Chops, Cilantro Sirloin Steak, Blackberry Chicken, Open Sesame Salmon, Skillet Fish Italiano to name a few.
You'll never see these Five for the Freezer plans again, folks. They are going, going GONE and will be locked up in the vault! And if this isn't enough of a value for you, we've also got all 3 (three) Ten for the Freezer menus for you as a fabulous BONUS!!!!! WAY over 60% off, y'all!
So stock up, get your freezer filled and take the heat out of cooking for heaven's sake. Just think, when the kids go back to school, you'll have everything you need already in the FREEZER!! At SavingDinner.com, we've got you COVERED!
Love,
Leanne
Comments
comments