Dear Friends,
Back in April, we started doing webinars here at SavingDinner.com. This all started because Dr. Terry Wahls' TED video came into my life. I was stunned to find out that a medical doctor with the ominous diagnosis of secondary progressive MS (complete with tilt recline wheelchair!) was healing herself via her diet! That's right, HEALING. I had to talk to this woman and pick her brain! I've always believed a healthy diet was key to good health, but Dr. Wahls blew my mind!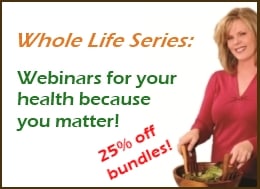 So Dr. Wahls and I did our first webinar together in April (and stay tuned, we–Dr. Wahls and I– are developing a 3 part series you're going to LOVE; save these dates: September 20th, October 30th and November 15th).
After that webinar, I went to a conference the next month and met some pretty amazing like-minded people who are following their passions and whose goals are to help people to live an optimally healthy life. I knew you'd want to meet them too, so the Whole Life Webinar Series was born. Since our first webinar in April, we've had 8 webinars, all with diverse topics, all offering tremendous values for participants.
We have an entire page of all the webinars we've done through August 13th. I invite you to come on over and take a look, listen to the webinars and find what works for you.
As my friend Drew Canole from FitLife.tv says (and with whom we just did a great juicing webinar with), we're in this together! And that is the reason for the Whole Life Series. Because life happens in between all the cooking, schlepping and working. And if you want a whole life, you have to seek it out.
So take your time at the Whole Life Series pages and listen & watch as many webinars as you like. This is a great way to spend some time with amazing experts and get an incredible education on the things that matter the most.
Enjoy!
Love,
Leanne
PS–if you decide you want to purchase any of the bundles, use the coupon code WHOLESAVINGS at checkout to get 25% off! (Note: Juicing Bundle not included in promotion)
Comments
comments