Dear Friends,
Summer is definitely here and the heat is ON!
And at SavingDinner.com, that means the oven is OFF! When you've got the a/c cranked, turning the oven on to cook dinner is just wrong. We won't let you do that!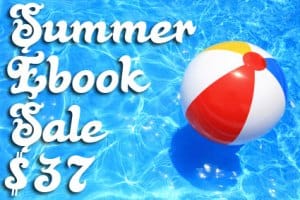 This is why we are putting ALL of our summer ebooks on SALE! We have 7 summer ebooks in all: Frugal, Regular for 2, Crock Cooker Volumes 1, 2 & 3, Vegetarian and Body Clutter!
All of these ebooks contain amazing recipes like Turkey Caesar Wraps, Shrimp and Orzo, Paprika Pork Chops with Corn Relish, Kung Pao Rice Salad, Barbecue Crock Pot Chicken and Thai Supper Skillet all respecting the heat index, all keeping the oven off, all delicious and super easy to prepare.
There's Crock Chinese Chicken Salad, Christmas in July Pork, Marinated Roast Chicken, Carne de Cerdo Burritos, Cinnayummy Chicken and Mobile Bay Scallops (a personal fave) all of these yumalicious recipes done up in weekly plans for you, all with nutritional info, serving suggestions and the blessed itemized shopping list. Do I hear an amen?
We're talking weekly plans a-plenty in these ebooks to pick and choose from! And we're also talking some kind of serious discount. Serious!
If you were to buy these ebooks separately, it'd be $105 – remember, that's SEVEN ebooks with 10 to 12 weeks of plans EACH! But today, it's only $37 for all 7 ebooks. WOW. Yep, I told you it was serious!
Now that you have your summer meal planning done (click here to get yours now => $37), go grab your towel and head to the pool. Your work here is done. Time to get your tan on girl!
Love,
Leanne
Comments
comments