Dear Friends,
I just have to share with you how awesome last night's webinar was!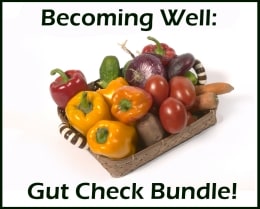 Our special guest, Dr. Terry Wahls was amazing! (Dr. Wahls' secondary progressive MS had in her in a tilt recline wheelchair 3 years ago; now she's jogging!) She knocked it out of the park talking about the friends and foes in our gut. If that sounds like an odd thing to talk about, maybe it is, but this information could be the lynchpin to your health!
Honestly, this information is priceless! I only wish more doctors were on top of the importance of having a healthy gut. That's why we have the replay for you, right here  AND, why we are also giving you an opportunity to get last night's webinar offer.
There are two ways you can get it:
1) Go listen & watch the webinar and purchase it there for less
OR
2) Buy it without the webinar $67
Here's what we offered—incredible deal, all tools to help you get a healthy gut yourself!
*Audio lecture by Dr. Terry Wahls, Trouble in Your Gut
*Transcript of the lecture
*$100 Paleo Bucks (gift certificate from SavingDinner.com to shop the Paleo Store!)
*Video of Leanne and Dr. Wahls cooking!
*Fermented and Seaweed Ebook (there are 15 recipes to feed your "friends" in your gut!)
*Paleo Thanksgiving Menu! (not to be missed, good for all the holidays!)
All for just $47 (when you watch the webinar, you can order right there) or $67 if you prefer to order without the benefit of the webinar.
Everything here has been chosen to help you integrate the important principles from last night's webinar. I urge you, go take a listen and get yourself informed and inspired! There's so much you can do to get your health BACK!
AND if you want, you can take advantage of the VIP bundle we offered earlier (details here), we've extended the offer simply because so many people were affected by Sandy and we've had an avalanche of emails asking us for the extension. (we're nice like that

)
Quick recap of the VIP bundle: there are 3 webinars (this is number 2, number 3 is coming on Nov. 15th, so mark your calendar!) and there are a bundle of goodies for each one. If you get the VIP bundle, you get a great deal of all 3 bundles, plus an hour private VIP Q & A with Dr. Wahls (she will answer as many questions as possible, so if you do become a VIP, send in a great question!). All for $97 instead of $47 each, PLUS you get access to the private VIP Q & A, exclusively for our VIP customers, only.
Feel free to grab the VIP bundle here and take control of your health!
Love,
Leanne
Comments
comments