Dear Friends,
Do you feel that the pressure is on to get dinner on the table night after night? I bet you do! The reason you do is because it IS! Those people you call your family expect dinner every day of the week and we all know who they expect to produce it. That's right, YOU!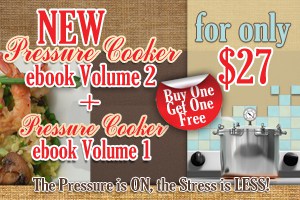 But how would you like a different kind of pressure? I'm talking pressure cooking!
No, not the kind of pressure cooking from the old I Love Lucy episodes where the pressure cooker explodes all over the ceiling! Pressure cookers have come a long way in the last 60 years–the olden days of pressure cookers going kapow all over the place are over. Today's pressure cooker is fast, safe and has the ability to make dinner faster than ever. How would you like Creamy Chicken with Leeks, BBQ Steak and Cheese Sandwiches and Citrus Cilantro Pork Tenderloin in just 30 minutes? The best part is it tastes just like your mom's did (but it didn't cook all day on the stove top)!
Our newest Pressure Cooker ebook is finally here and the recipes are to drool worthy: N'Awlins Style Shrimp Etouffee, Thick and Creamy Pear and Butternut Squash Soup, Cherry Glazed Pork Chops and Bourbon Glazed Salmon.
And the best part? We'll GIVE you our Pressure Cooker ebook volume 1 as our gift to you when you buy the all new volume 2! With awesome recipes such as All-American Meat Loaf, Beer Barrel Pork, and Garlic-Tarragon Chicken with its 8 weeks of menus and 48 recipes, how can you help but love being under pressure, LOL
So don't wait! Get your brand new Pressure Cooker ebook volume 2 plus volume 1: a true BOGO!  That's 96 mouthwatering recipes, 16 weeks of weekly menu plans to keep you cooking and 100% guarantee that you're going to love this new ebook! Get to clickin' ya'll! ===> $27 <===
Love,
Leanne
P.S. Don't miss on this BOGO, it's just $27 for TWO pressure cooker volumes==> True Value ===> $27
Comments
comments