Dear Friends,
It's baaaaack!
It's the time of year that has you scurrying to pick up school supplies, backpacks and lunchboxes. Yes, School, capital S, is just around the corner!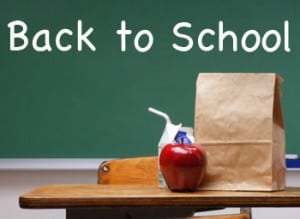 And believe me, I know you're putting out some cash getting your kids outfitted and ready to head back. It's not an inexpensive proposition! But let's get YOU ready to take on the family's mealtime needs and keep your budget. Sound like a plan?
Back you go to carpools, after school care, kid's sports schedules and doing homework after dinner. But just what kind of dinner do you want to make?
How does EASY sound? Let's add cost effective and ample use of the crockpot and freezer meals, too. After all, you're going to be busier than everyone else!
That's why we threw together our Super Back to School Value Package – to get you the help you need to get the family back into routine and back to the dinner table as well. Here's what you get:
*Our own "Hamburger Help-her" Menu: 10 fast and furious skillet hamburger meals such as Sweet Curry Beef and Noodles, Spicy Skillet Chili Mac and Cheeseburger Macaroni—delicious, inexpensive and QUICK! (Not available otherwise, it's in the vault, $10 value)
*Our Fast and Easy Menu: 10 recipes that uses an already done product (like frozen meatballs) to customize a very quick meal. How about some Meatball Sub Sandwiches, Sourdough Tuna Melts or Chicken Margarita? Mouthwateringly good, so fast to make and super easy to make your kids could make them! (Not available outside of this sale, it's in the vault, $10 value)
*5 Ingredient eBook: Yep, 5 ingredients is all it takes to make such delectable meals like Pecan Crusted Chicken, Apple Butter Roasted Pork and Garlic Ginger London Broil. Once again, quick & easy! ($17 value)
*Now and Later Volume 1: How about making something now and being able to enjoy it later? That's the concept behind our Now and Later Menus; you cook one for dinner and assemble another for the freezer! Favorite meals include Skillet Tomato Pesto Chicken, Cranberry Pork Tenderloin and Serbian Shepherd Pie. ($10 value)
*Pizza eBook: Skip the pizza guy & make your own, it's EASY! New York Style Pizza Crust, Four-Alarm Pizza Sauce & a fabulous Gluten Free Pizza Crust to name a few. There's 5 crusts, 5 sauces and 32 pizza recipes including Golden Gate Pizza, Philly Cheesesteak Pizza and Pesto Verde Pizza, yum! ($17 value)
That's a LOT of menu plans and a whole boatload of delicious, time saving dinners! But don't take our word for it; check out what a few of our raving fans have said:
"I have already made a 1 month plan for menus! So far by planning I have saved over $100.00 by planning ahead. Also, my family now thinks I am the best cook every and EVERYONE eats their veggies. No more quick fast food meals for us, now we have a wonderful time eating together and enjoying the benefits of a home cooked meal. Thank you!" ~Loving my kitchen again in MN
"This week we have eaten well, enjoyed cooking together (funny how that happens.), saved $100 ($75 vs. the normal $175), and my office-mates are drooling over the aroma of my leftovers.  And I LOVE the variety."  ~Carla
All of this would retail for $64, but today it's only $27!! You read that right – just $27!!!
But that's not all; you also get our 20 for the Freezer Crock Cooker menu, absolutely F*ree! These are recipes you assemble for your freezer, thaw and cook up fresh when you need them. The ultimate Plan B! These recipes are major dinner savers and will rescue your dinner plans from the fast food lane with ease! Recipes like Crock Cranberry Beef, Crock Glazed Chicken, Savory Crock Cooker Stew, Crock Pork Marengo, to name just a few. Remember, you get the prep and assembly directions, plus the thaw and cook directions. A must-have for every busy household–see what Kristy had to say:
"I just wanted to let you know you have a new fan! I used to frequent the "assemble your dinner and freeze it" places, but I knew there had to be a cheaper alternative. When I tried finding freezer recipes on the Internet, all I could find were casseroles! A friend suggested your web site, and I am so thankful she did. Thank you so much!" -Kristy (20 for the Freezer)
All in all, this Super Back to School Value Package would retail for $84, but today, $27. That's right, $27!!
Take action TODAY and start your school year off RIGHT!
Get busy, get to clicking==>$27<== Time's a-wasting!
Love,
Leanne
PS => If your child is heading to college or their first apartment, this bundle is perfect for beginner cooks, plus those grown up kids of yours will save some substantial money when they work from a plan! Get your kids set up, click here now => $27
Comments
comments