Dear Friends,
You've asked for more paleo, we've got it right here in a brand new Paleo eBook, 26 weeks of paleo menus! Yep, 26 weeks, that's half the year! Not only do you get the menus, you get the weekly shopping lists, the serving suggestions and as a bonus, you get my fabulous Mitochondria Miracle Vat of Soup and Leanne's Basic Vinaigrette recipe as well.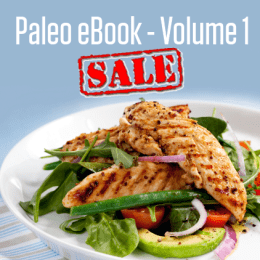 Seriously, this ebook will totally set you up for paleo dinners night after night! And the best part? These recipes are so good and family friendly, no one will know! (So shhh, don't tell the fam you've gone paleo!)
When I say good I mean crazy good. With recipes like Tuscan Chicken Skillet, Really Garlicky Salmon and Curried Beef on Spinach, they'll never know what hit 'em, except that you're serving an amazing dinner!
And to keep the cavemen (and women) happy and always ready with a meal at any time, we've also got TWO Paleo 20 for the Freezer Menus to bundle up with our new ebook!
You know the drill when it comes to doing freezer meals–you assemble them all at the same time & freeze. Then when you need dinner, you thaw your chosen Dinner Kit, cook it up fresh in minutes and you're done. Fun AND done; don't you love it?
We do and so do so many of devoted Saving Dinner friends and family. Doing dinner with the freezer makes life a breeze and when you add in the fact that the whole kitten kaboodle is paleo (and naturally gluten free), wow!!
Here's what you get with these two 20 for the Freezer menus–40 recipes in all–10 each of beef, chicken, fish and pork–all the shopping lists, the assembly instructions, the freezing instructions, the fresh preparation instructions and of course,  serving suggestions. The whole gluten free and paleo enchilada. Loving it!
With all new, family-friendly recipes like Steak and Potato on a Stick, Pesto Chicken, Coconut Creamed Cutlets, Shrimp de Caliente plus Ranch Chicken, Teriyaki Pork Ribs, Kickin' Grilled Shrimp and Italian Pot Roast from volume 1, how can you go wrong? Your family will beg you for Roasted Garlic Meatloaf, Lemon Ginger Chicken Stir Fry, Meatball Kebabs, Garlic Sage Pork and Lemon-Lime Salmon. This is just a sampling of the absolutely delicious recipes you'll assemble, freeze, thaw and cook up fresh for your family. Can you see how fabulously this would work for your busy family's schedule?
The new Paleo eBook retails for $37, both of the paleo freezer menus retail for $40, we've got the whole thing for the price of the ebook, just $37! That's like getting the freezer menus F*R*E*E!

Get your paleo on today ==>$37<== click here, it's all YOURS!
Love,
Leanne
Comments
comments