Tricks, Tips and a Recipe
All about Allspice!
By: Leanne Ely
It's time once again for Tricks, Tips and a Recipe. Today you'll learn a tip, a trick and you'll get a great recipe to try it out with. Neat, huh?
Don't forget tomorrow is the radio show, Saving Dinner with the Dinner Diva! The show is on every Wednesday at noon EST and is almost always LIVE. Bookmark this page and show up tomorrow–www.blogtalkradio.com/flylady and remember you can call in LIVE with your questions–about food, cooking, nutrition, anything you can think of! If you can't listen live, you can always listen to the archives and now you can even send in your questions and listen to Leanne answer them on a future show! Just email Dear Leanne at Saving Dinner dot com.
Today's Focus is on ALLSPICE
Contrary to popular belief, allspice is not actually a blend of different spices. Allspice is actually a berry that comes from the "Pimenta dioica" tree, native to Jamaica and other areas of the West Indies as well as Southern and Central America. You can find allspice in the dried berry form, or as a ground powder.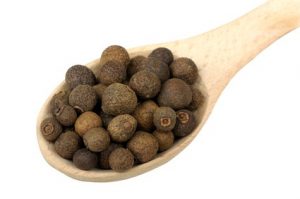 We have Christopher Columbus to thank for bringing these little allspice berries with him to Europe and introducing them to the rest of the world after he thought he'd found the black peppercorns he'd been looking for. He named them "pimienta" which is Spanish for "the pepper spice." Columbus made a happy mistake that day! Allspice berries are actually a little bit larger than peppercorns, and they turn a reddish brown color when they've been dried.
Jamaica grows most of the world's allspice but it's also grown in Guatemala, Honduras and Mexico. The quality, however, is the best when allspice is grown in Jamaica where the climate is perfect for the crop.
You may have had that same jar of allspice kicking around in your pantry for months, but in the Caribbean, allspice is one of the most important spices in the kitchen. Native to this part of the world, allspice is one of the predominant flavors in Caribbean cuisine. If you've ever enjoyed "jerk" chicken or meat, you've enjoyed the spicy flavor of allspice.
Allspice has been used as a digestive in traditional medicine for many hundreds of years. If you add allspice to foods that are a little hard to digest (the foods that give you gas!) you might find a difference. Allspice is a highly antibacterial food and is also effective in decreasing inflammation in the body.
I love the peppery taste of allspice and I use it all the time in stews, soups and curries. Add some allspice to your marinades, fruit pies and meat rubs. I bet you'll love it!
Now it's time for your Trick:
Whole allspice berries will keep indefinitely if you store them in an airtight container out of direct sunlight but the ground powder should only be kept for a few months, tops.
Your Tip:
If you buy allspice in its whole form, grind the berries as you need them with a mortar and pestle or a pepper mill. They tend to lose their aroma and flavor shortly after they've been harvested.
And your Recipe:
Pumpkin, Parsnip, and Squash Beef Stew
4 servings
INGREDIENTS:
2 pounds beef stew meat
2 cups cubed butternut squash
2 cups cubed pumpkin
1 cup chopped parsnips
1 cup chopped onion
1 cup raisins
1 tablespoon allspice
3 bay leaves
5 cups low sodium beef broth
1 teaspoon sea salt
1/2 teaspoon freshly ground black pepper
DIRECTIONS:
Combine all ingredients in the slow cooker. Cover and cook on LOW for 8 hours. Stir well, remove bay leaves, serving when beef falls apart and vegetables are tender.
Are you on Pinterest? So are we! We'd love to see you on our Pinterest page http://pinterest.com/savingdinner/ and we'd LOVE to see pins about Saving Dinner! Let us know if you've blogged about us we'll share it too!