Dinner Diva
Healthy Snacks for Hungry Kids – Part 2
by Leanne Ely, CNC
Last week I shared some ideas for feeding those hungry munchkins that are home for the summer. Need more ideas? These snack ideas came in from moms – tried and true snacks that are healthy and keep kids (and adults!) happy. Try these out for yourself and see what you think:
1.Our favorite is celery sticks with peanut butter. Put a few raisins on top and you have "ants on a log"
2. I am one of those moms always in the dilemma of looking for healthy food that the kids will eat and like! Here are a few my two enjoy (besides some of the ones you already mentioned):
3. Yogurt
4. Popsicles or Jell-o made with fruit juice (Vitamin C & Calcium fortified)
5. Bananas with peanut butter (this actually makes a pretty good meal!)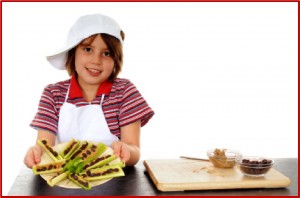 6. Homemade quick bread/muffins – I always use at least half whole wheat flour, and try to sneak in some other good-for-you ingredients like wheat germ, flax seed meal, etc.
7. I found the best microwave popper at the grocery store. It is basically a bowl with a slightly raised lid. Just scoop the popcorn in and put in the microwave. No oil or anything. It works better than stand alone air poppers since it can go directly in the dishwasher. We spray some "I can't believe it's not butter" on it or sprinkle with mozzarella cheese and good to go. My main thing was to mention the popper though – we found ours at Krogers.
8. My son loves homemade granola bars and even brags to his friends about how good they are. I use the recipe from Quaker oats (on the box). Quaker has lots of granola recipes at http://www.quakeroats.com/cooking-and-recipes/content/recipes.aspx and just use the keyword granola. We add dried cranberries, dried cherries, raisins, and chocolate chips. His teacher even asked for the recipe! The other snack I bake a lot is banana bread, from scratch, not a mix. Applesauce can replace the butter.
9. This homemade microwave popcorn is easy for those that don't have an air popper.
1/4 cup popcorn kernels
1 lunch-size brown paper bag
1 piece of tape
1/4 teaspoon salt (if desired)
1 tablespoon butter (if desired)
Put popcorn in the bag. Fold the top over twice and secure with tape. Microwave for 2-5 minutes on high, until you hear the kernels finish popping. Transfer to a large bowl and drizzle with melted butter. Stir well. Add salt.
10. Cube an eating apple, add some blueberries and lightly sprinkle with cinnamon. Stir to mix the cinnamon. That's it! You just can't believe how good this is.
11. Hummus and pita bread, or veggies. You can make your own hummus, but many packaged brands are available and some are tasty and healthy. Kids love to dip things!
12. Cold pasta. Twists, bow ties, etc. Use whole wheat pasta, toss it with a little extra virgin olive oil and even some grated parmesan cheese and take it along in zip lock baggies.
13. I keep two small storage containers in the back of my mini van. One contains snacks for the kids that don't melt or spoil. I also keep sports drink pouches (in the summer) and fruit juice boxes in the winter (they freeze well). The other contains snacks that I can eat, like dried fruit and nuts, low-carb/protein bars and drinks (for when I'm too busy to eat) and bottles of water. I always keep a bunch of water bottles in the front area, under a seat, so my children and their friends have water at all times. You could also keep a container with baby wipes, paper towels, trash bags, first aid kit, extra socks and mittens in the winter and sunscreen, bug spray, and hats in the summer, but that is another topic.
14. Spread cream cheese with a variety of toppings (ham and cucumbers, salsa and shredded cheese, etc…) on a whole wheat tortilla and either eat it like a rolled sandwich – or slice into "appetizer" bite-sizes
15. Homemade popsicles – the investment for the plastic do-it-yourself ones is well worth it. I have three sets so at least one set is always be in the freezer. Any 100% juice or combination of two works well. Or try bananas blended with yogurt or orange juice. Yogurt with unsweetened crushed pineapple is good too (no need to drain). You get the idea, use your imagination here!
Did you miss the first part of our snack series last week? <<Click Here>> to check it out!