Healthy Foods
Main Course Salads Keep Dinner Cool in the Summer Heat
By: Daniel Munns
When I take a look at my calendar, I find it hard to believe that it is already the middle of June. When I step outside, however, I am immediately reminded that yes, summertime is upon us! I know it is only going to get warmer and the last thing I want to be doing this time of year is turning on my oven. Instead, I want to get outside and fire up my grill! I also want to keep it healthy, so I turn to main course salads to take the burn out of the summer heat.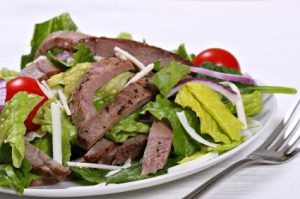 Here's a great main course salad recipe from the brand new Saving Dinner Fundraising Summer Package that will help you keep you both cool, and full!
Blue Cheese Steak Salad
Serves 4
1 tablespoon olive oil
1 clove garlic, pressed
1 pound beef sirloin steak
8 cups shredded mixed salad greens
1 cucumber, peeled and sliced
4 medium tomatoes, cored and sliced
1 small red onion, thinly sliced
1 cup crumbled blue cheese
Preheat grill to MEDIUM-HIGH. Rub steak with oil and garlic and grill until it reaches desired level of doneness; remove from skillet to a cutting board and allow it to rest for about 10 minutes. Meanwhile, arrange lettuce on dinner plates; evenly add cucumber, tomatoes and red onion; slice the steak and arrange it on top. Garnish with blue cheese.
Per serving: 472 Calories; 30g Fat; 37g Protein; 16g Carbohydrate; 5g Dietary Fiber; 109mg Cholesterol; 577mg Sodium. Exchanges: 4 ½ Lean Meat; 3 Vegetable; 3 Fat.
Want to know more about the great menus included in the Summer Package, as well as how they can help you raise money for your group or cause? Send us an email at info@savingdinnerfundraising.com and we will fill you in!
Comments
comments