Food For Thought
Paprikash
By: Leanne Ely
Dear Friends,
I just saw (again) for 900th time, When Harry Met Sally. That movie still cracks me up and a favorite part is when Harry is teaching Sally to talk funny in the museum, "Waiter, there is too much pepper in my paprikash. But I would be proud to partake of your pecan pie."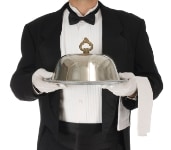 Remember that? Love illiteration and that silly movie.
Plus I love me some Chicken Paprikash. Here's my favorite Paprikash recipe, not too much pepper, LOL! Enjoy!!
Chicken Paprikash
Serves 6
1 tablespoon olive oil
1 1/2 cups green bell pepper, cut into strips
1 onion — chopped
2 cloves garlic — pressed
3/4 cup chicken broth
1 1/2 tablespoons paprika
4 tablespoons tomato paste
salt and pepper — to taste
6 boneless skinless chicken breast halves
3/4 cup low-fat sour cream
6 cups hot cooked egg noodles — (4 cups uncooked)
In a skillet, heat half the olive oil over medium high heat and add first three ingredients. Saute until tender and set aside. Heat remaining olive oil and brown chicken breasts on both sides, about 4 minutes each side or until cooked. Remove chicken from skillet. Add broth, paprika, tomato paste and salt and pepper to taste; bring to a boil. Add sauteed vegetables and chicken breasts to skillet and cook another 3-5 minutes for flavors to meld. To serve, remove chicken to plates (keep warm) and stir in sour cream to remaining sauce. Warm sauce slightly (don't boil or the sauce will break) and spoon the sauce over the chicken.
Per serving: 367 Calories; 7g Total Fat;; 37g Protein; 3g Fiber; 38g Carbohydrate; 111mg Cholesterol; 212mg Sodium Food Exchanges: 2 Grain (Starch); 4 Lean Meat; 1 Vegetable; 0 Fruit; 1 Fat; 0 Other Carbohydrates
SERVING SUGGESTIONS: Serve with steamed broccoli and steamed baby carrots.
VEGETARIANS: Use veggie patties for the chicken and vegetable broth instead of chicken broth. Cooking time may be a little less than for the chicken-use your judgment.
Love,
Leanne Ely, your Dinner Diva since 2001
www.savingdinner.com
Get your FR*EE Menu-Mailer when you get our Daily Dish!
Comments
comments