Dinner Diva
Spinach: The Healthy "Fast" Food
By: Leanne Ely
Dear Friends,
A favorite super healthy "fast" food favorite of mine is spinach. Not just any old bunch of spinach, but the stuff in a big plastic tub (I get mine at Costco). I use a ton of it during the week and eat it in a variety of different ways from salads, to side dishes and let's just say, it's a secret ingredient in my smoothies (shhh, don't tell!).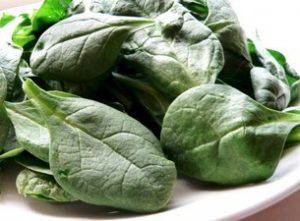 It's a quick cooking veggie (like I said, "fast" food!), 100% worthy of the title super food. Spinach is chocked full of all kinds of healthy nutrients, including a whole bunch of B vitamins, C & E, omega 3 fatty acids, glutathione, beta-carotene, alpha lipoic acid and too many minerals to name, not to mention all the phytonutrients—this is a food that will fight cancer, heart disease, cataracts and macular degeneration. This veggie has it ALL.
One thing to remember is to always buy organic spinach. This is one of the vegetables named by the EWG (Environmental Working Group) on their Dirty Dozen List (a list of foods with the worst pesticide overload. Others included are lettuce, potatoes, apples, strawberries, peaches, bell peppers, and more. You can google "dirty dozen"+EWG and get the full scoop).
Here's a fabulous spinach salad with some unexpected ingredients, enjoy!
Double Blue Spinach Salad
Serves 6
1 cup chopped walnuts
2 tablespoons balsamic vinegar
6 tablespoons extra virgin olive oil
1 1/2 cups fresh blueberries
3/4 cup blue cheese crumbles
1/2 cup thinly sliced red onion
6 handfuls of baby spinach (best way to measure!)
In a salad bowl, lay down the spinach first then add the rest of the ingredients. Toss well and serve, that's it!
Want even more great salad recipes? Check out our Salad E books!
Fundraising
Saving Dinner Fundraising Assists a Variety of Organizations
By: Daniel Munns
Since our founding in the middle part of 2011, we have had the pleasure of helping out a number of different types of groups reach their fundraising goals. Participants in the Saving Dinner Fundraising program have included schools, booster clubs, church groups, teams, scouts and many other types of organizations working to help out a worthy cause. I wanted to take a chance to highlight a group, Fundraising for Michelle Gordon, that recently registered to use our program.
Michelle Gordon is a wife and mother of two young kids that lives in upstate New York. In February 2012, at age 34, Michelle was diagnosed with stage IV colon cancer. Michelle's sister, Sandra Bratlie, helped create a website http://www.yeswecansir.com/ and signed up for our program in order to provide moral and financial support for her sister's family. Sandra, being familiar with Saving Dinner's menu-planning products, was excited to be able to raise funds through the sale of products she was familiar with.
Like many of the organizations using our program, Fundraising for Michelle Gordon will promote their Saving Dinner Fundraising page (see it HERE) through emails to supporters, advertising on their group's Facebook page and website. Further, they are holding a benefit for Michelle and will use this event to kick off their Saving Dinner Fundraising drive.
We are thrilled to be helping organizations just like the one above raise funds. If you would like to learn how you could get started with your very own fundraising campaign, send us an email at info@savingdinnerfundraising.com and we can assist you.
Comments
comments