Healthy-Foods
Have You Visited Your Dining Room Lately?
By: Leanne Ely
Dear Friends,
Mount Rushmore has one of the most well known sights in America called the Mount Rushmore National Memorial. This granite cliff has several presidents' faces carved into the side and has been visited by millions of people.
Another well-visited place should be your own dining room table, especially when you have Jack Fish on the menu!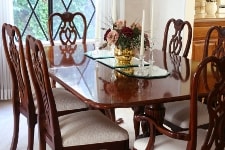 This recipe is from Saving Dinner the Low Carb Way and one of MY FAVORITES!
Jack Fish
Serves 4
1 pound cod fillets — thawed if necessary (or other firm white fish)
Salt and pepper — to taste
2 medium tomatoes — chopped
4 teaspoons green onion — chopped
1/2 teaspoon basil
2 teaspoons butter
1/2 cup shredded Monterey jack cheese
Preheat oven to 450 degrees. Place fish fillets in lightly greased baking dish. Sprinkle fish with salt and pepper. In a bowl, combine tomato, onion and basil; spoon over fish.
Dot fish with butter. Bake for about 8 to 10 minutes or until fish flakes easily when tested with a fork. Turn off the oven. Sprinkle fish with cheese and return to oven just to melt the cheese.
Per Serving: 160 Calories; 5g Fat (30.0% calories from fat); 24g Protein; 3g Carbohydrate; 1g Dietary Fiber; 61mg Cholesterol; 143mg Sodium. Exchanges: 0 Grain(Starch); 3 Lean Meat; 1/2 Vegetable; 1/2 Fat.
LC SERVING SUGGESTIONS: Serve with steamed broccoli and a big salad.
SERVING SUGGESTIONS: Add baked potatoes.
Love,
Leanne
http://savingdinner.com   FR*EE Menu-Mailer when you get our Daily Dish!
Comments
comments