Recipes
February 21, 2012
Go Bananas!
Tricks, Tips and a Recipe
Go Bananas!
By: Leanne Ely C.N.C
Happy Tuesday, Y'all!
It's time once again for Tricks, Tips and a Recipe. Today you'll learn a tip, a trick and you'll get a great recipe to try it out with. Neat, huh?
Don't forget tomorrow is the radio show, Saving Dinner with the Dinner Diva! The show is on every Wednesday at noon EST. Bookmark this page and show up tomorrow– http://www.blogtalkradio.com/flylady You can call in LIVE with your questions—about food, cooking, nutrition, anything you can think of! If you can't listen live, you can always listen to the archives.
Today's focus is on: BANANAS
Did you know that bananas are actually berries from a large tropical herb? Oh yes indeed! Bananas are healthy, loaded with potassium and will correct a night of too much sodium. If I eat Chinese the night before and wake up with puffy eyes, I'll eat a banana and by lunchtime, I'm normal. Why? There is a little sodium/potassium pump in each one of your cells. So you eat the banana and you even things out a bit. Cool huh?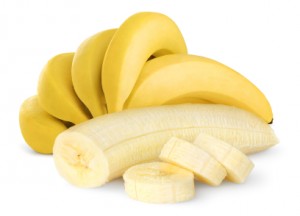 And here's a TIP:
To speed ripening, store them in a brown paper bag. To delay ripening, store you 'naners in the fridge. Ta da!
And a TRICK:
Over ripe? Don't throw them out! Peel and store in a freezer bag in the freezer. Now you have the beginnings of banana-deliciousness in the form of smoothies, muffins, pancakes, banana bread…name it! I've ALWAYS got some frozen bananas in my freezer!
And your RECIPE:
Jamaican Style Nutty Chicken
Serves 6
6 (6-oz.) boneless skinless chicken breasts
1 tablespoon unsalted butter
1 teaspoon sea salt
1/2 teaspoon freshly ground black pepper
1 (6-oz.) can orange juice concentrate, thawed
1 bay leaf
Juice of small lime
3 firm ripe bananas, thinly sliced
1/2 cup roasted almonds
Season chicken with salt and pepper to taste. Brown chicken on both sides in butter in skillet over medium heat. Reduce to low and add 1/2 cup water, 1 teaspoon salt, 1/2 teaspoon pepper, orange juice and bay leaf. Bring to boil, cover and simmer for 20 minutes (turn chicken once while cooking). Remove chicken and keep warm. Bring liquid to a boil over high heat for 5minutes, constantly stirring. Stir in lime juice and bananas; heat gently. Place chicken on serving dish, top with sauce and sprinkle with nuts.
Per Serving: 355 Calories; 12g Fat; 43g Protein; 20g Carbohydrate; 3g Dietary Fiber; 104mg Cholesterol; 427mg Sodium. Exchanges: 0 Grain(Starch); 6 Lean Meat; 1 Fruit; 1 1/2 Fat. Points: 9
SERVING SUGGESTIONS: Sweet potatoes and steamed broccoli would round this meal out nicely.
FOLLOW SAVINGDINNER.COM ON TWITTER!
www.twitter.com/savingdinner