Recipes
January 27, 2012
Fill up with Fiber
Healthy Foods
Fill up with Fiber
By: Leanne Ely, C.N.C
Boosting the intake of fiber in the diet should be tops on the list of anyone hoping to improve their nutritional profile.
Getting enough fiber in the diet will absolutely keep you regular—especially if you remember the other corresponding component to filling up with fiber—water. Think for a moment about your garbage disposal. In order to get it flushed out, you must run the water before turning on the switch. This is how you get things moving and flushed out. Your own personal waste disposal isn't much different–you need both to make things work: fiber and water.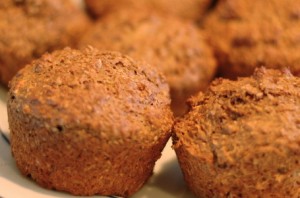 Fiber is much more than just oat bran or whole wheat bread. There are two types of fiber: soluble and insoluble fiber–one is soluble in water and the other is not. We need both in order to function optimally.
Soluble fiber sources includes apples, oranges, oatmeal, barley, dried beans and carrots. Insoluble fiber comes from bran, brown rice, popcorn, fruit and vegetable skins, and whole grains. No need to wring your hands over which fiber is contained in which food, just keep in mind that having a well-balanced diet with an assortment of fruits, vegetables and whole grains will help you get what you need fiber-wise.
The National Cancer Institute recommends 20-35 grams of fiber daily, but most Americans only eat 7-8 grams a day! So how do you get the fiber in? A part of the solution can be as simple as changing out the white stuff for the brown stuff: out with the white bread, white rice and white flour and in with the whole wheat bread, brown rice and whole wheat flour. This will pay off in huge dividends—you cannot afford to eat the white stuff. It's like pouring white glue into your intestines. Not only are you not getting the nutrients you need from your food, but you're also slowing digestion way down and setting yourself up for constipation and other fun stuff.
So bulk up—with fiber, that is. Here's a good fiber filled recipe to get you going (and for some of you, that may mean literally! LOL) Don't forget the water!
Honey Bran Muffins
Makes a dozen
1 1/4 cups whole wheat pastry flour (available in health food stores)
1/2 cup oatmeal
1 cup oat bran
1/4 cup honey
1 teaspoon baking powder
1 teaspoon baking soda
3/4 teaspoon ground cinnamon
1/4 teaspoon nutmeg
2 slightly beaten eggs
2/3 cup buttermilk
1/2 cup raisins
1/4 cup oil (preferably coconut oil)
Spray muffin pan with vegetable cooking spray or line with paper baking cups. Stir together all dry ingredients. Combine eggs, buttermilk, honey and oil. Add egg mixture to flour mixture; stir until moistened. Fold in raisins. Fill muffin pan 2/3 full. Bake in a 400 degrees oven for 15-20 minutes.
Per Serving: 175 Calories; 7g Fat; 5g Protein; 29g Carbohydrate; 4g Dietary Fiber; 36mg Cholesterol; 173mg Sodium.  Exchanges: 1/2 Grain(Starch); 0 Lean Meat; 1/2 Fruit; 0 Non-Fat Milk; 1 Fat; 1/2 Other Carbohydrates. Points: 5