Recipes
June 7, 2011
Firm White Fish
Tips, Tricks & a Recipe
Firm White Fish
by Leanne Ely, CNC
Today's Focus is Firm White Fish
Many Menu-Mailer subscribers have asked, "What is firm white fish?" I've been using that term for years without thinking twice about how everyone might not know what I mean. I always want to give you the option to choose and if I mention "firm white fish" there are quite a few options (think tilapia, halibut and cod for example), but this time I'm going to focus on mahi mahi.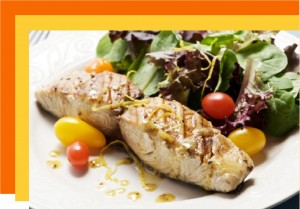 Mahi mahi is a lean protein chock full of omega-3s and vitamin B12, two nutrients that will keep your mind sharp and your body lean. Even if you don't like fish I encourage you to keep trying different types and recipes until you find something you enjoy – I promise there's a strong chance you'll find something!
Here's your TIP
If you're grilling mahi mahi, use a marinade! It'll add a lot of scrumptious flavor and prevent the filets from getting charred (charred food can lead to cancer). Toss the marinade the fish has marinated in–this isn't good for anything anymore…it's done its job.
Here's your TRICK
Toss some summer veggies on the grill in the same marinade (not the stuff the fish was in; make extra)! I recommend summer squash, zucchini, onions, and always garlic! Quick and easy portion of veggies!
And for the RECIPE
Ginger Mahi Mahi
Serves 4
2 tablespoons honey
4 tablespoons soy sauce
3 tablespoons balsamic vinegar
1 teaspoon of grated fresh ginger root
2 cloves of crushed garlic
4 teaspoons coconut oil, divided (or use olive oil, but the coconut oil ROCKS!)
4 mahi mahi filets
Sea salt and freshly pepper to taste
In a glass baking dish combine honey, soy sauce, balsamic vinegar, ginger, garlic, and 2 teaspoons of coconut oil. Season mahi mahi with salt and pepper and place in the dish. Cover and chill for at least 20 minutes to marinate.
Heat remaining 2 teaspoons of coconut oil in a large skillet over medium-high heat. Remove fish from dish and set marinade aside. Sear fish on each side for 4-6 minutes turning only once until the fish flakes easily with a fork. Remove from pan and keep warm.
Love fish? So do we! Have you tried our FFF Fish? It's awesome!!!