Recipes
February 7, 2012
Ginger A-Peel
Tricks, Tips and a Recipe
Ginger A-Peel
By: Leanne Ely, C.N.C
Happy Tuesday, Y'all!
And it's time once again for Tricks, Tips and a Recipe. Today you'll learn a tip, a trick and you'll get a great recipe to try it out with. Isn't that great?
Don't forget tomorrow is the radio show, Saving Dinner with the Dinner Diva! The show is on every Wednesday at noon EST. Bookmark this page and show up tomorrow–http://www.blogtalkradio.com/flylady You can call in LIVE with your questions—about food, cooking, nutrition, anything you can think of! If you can't listen live, you can always listen to the archives.
Today's focus is on GINGER.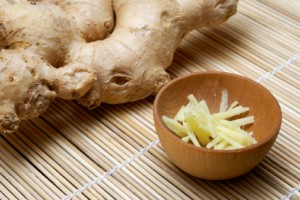 The pungent, distinctive smell of fresh ginger is worth the time it takes to grate it and use it. Ginger looks like an alien root mass and is readily available year round in your grocer's produce department. Choose firm roots (actually, they're rhizomes) and skip anything wrinkly or moldy. To make sure your ginger is fresh, break off one of the little knobs—it should snap audibly.
Here's today's TRICK: No need to peel ginger before grating it, just make sure you wash it well. Those little papery thin pieces of peel won't even faze the most suspecting critic!
And here's a TIP: Did you know you could always freeze whole ginger if you're not going to use it up (don't grate it first)? Just keep it in a freezer quality, zipper topped bag. Take it out, grate what you need and throw it back in the deep freeze! Yes it's that easy!
And your RECIPE: (from regular Menu-Mailer)
Asian Roll-Ups
Serves 6
1 (14 3/4-oz.) can salmon, drained and flaked
(or use the same amount of cooked salmon)
1 (11-oz.) can Mandarin oranges
1/2 cup finely chopped green onions
2 tablespoons peanut butter
1/4 cup plus 1 tablespoon low-sodium soy sauce, divided
1 tablespoon fresh lemon juice
2 cloves garlic, pressed
2 tablespoons freshly grated ginger
6 whole wheat tortillas
1 tablespoon rice vinegar
Drain oranges and reserve 2 tablespoons liquid. Chop enough oranges to equal 1/2 cup and reserve the remaining oranges for a tossed green salad (which you should have on the side).
Place the salmon in a medium bowl. Add green onions, peanut butter, 1 tablespoon of the soy sauce, lemon juice, garlic, chopped oranges, and ginger then mix well. Spoon a portion of the salmon filling in each tortilla and wrap it up and serve.
In a small bowl, combine remaining 1/4 cup soy sauce, reserved mandarin orange liquid and vinegar; mix well to be served as a dipping sauce.
Per Serving: 302 Calories; 10g Fat; 20g Protein; 35g Carbohydrate; 3g Dietary Fiber; 38mg Cholesterol; 1296mg Sodium. Exchanges: 0 Grain(Starch); 1 1/2 Lean Meat; 1/2 Vegetable; 1/2 Fruit; 1/2 Fat; 0 Other Carbohydrates. Points: 8
SERVING SUGGESTIONS: Serve with a big green salad. Use the leftover mandarin oranges, slivered almonds and a sweet and sour salad dressing to compliment the meal.
VEGETARIANS: Skip the salmon and add a can of black beans. You may either heat the beans in the dressing or you can eat it cold (but I would allow the beans to marinate in the dressing for at least an hour or two first).