Recipes
January 3, 2012
Kick Start Your New Year with Kefir
Tips, Tricks & a Recipe
Kick Start Your New Year with Kefir
by Leanne Ely, CNC
Happy Tuesday, Y'all!
It's time once again for Tricks, Tips and a Recipe. Today you'll learn a tip, a trick and you'll get a great recipe to try it out with. Neat, huh?
Don't forget tomorrow is the radio show, Saving Dinner with the Dinner Diva! The show is on every Wednesday at noon EST. Bookmark this page and show up tomorrow–www.blogtalkradio.com/flylady You can call in LIVE with your questions—about food, cooking, nutrition, anything you can think of! If you can't listen live, you can always listen to the archives.
Today's focus is on: Kefir
Kefir is yogurt's close cousin. A thinned out version of yogurt, this beverage, like yogurt, is filled to the brim with pre and probiotics. Understanding the importance of probiotics in your body is to understand that importance of a healthy and active immune system! Remember, 80% of your body's immune system is located in the gut! Keeping a healthy digestive tract (and that's exactly one of kefir's jobs) is key!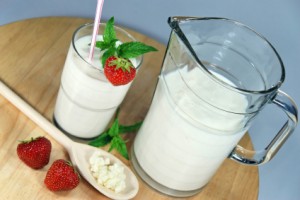 Here's a TIP:
Instead of milk, I use kefir on my steelcut oats. Sure, it's a little tart and I had to get used to it, but considering that I also add wild organic blueberries, I've got THREE superfoods working for me first thing in the morning! I add a little local wild honey to sweeten it up a bit.
And a TRICK:
I use kefir or yogurt (depending on what I have on hand) in my smoothies. Make sure you buy the plain ones and add your own fruit to keep the sugar at bay!
And your RECIPE:
It's my smoothie. I make one every single day for breakfast. This is the best way I know to get the nutrition in, start my day off right, get my supplements taken care of and it's all easy, in a glass, breakfast is DONE. For you commuters, even better!
Here it is, updated and fabulous—
1 scoop Vegalite; I'm currently obsessed with the chocolate flavor!
1 scoop Medibulk
1 scoop chia seed (I buy this at the health food store)
1/2 cup coconut milk (plain, no sugar added)
1/4 cup coconut water
A handful of frozen (organic if you can) berries, your choice (about 1/3 cup)
2 ounces plain kefir or yogurt (low fat)
Sometimes I will add an orange Emergen-C packet instead of the berries (getting 1000 mg vitamin C, plus it's very hydrating) especially if I'm traveling.
Put everything in a blender (I have a 450 watt blender that works great!) and LET HER RIP!
That's it. Pretty simple, isn't it? That's how easy breakfast can be in the morning. This smoothie takes me all of two minutes to make.
Enjoy!