Recipes
February 14, 2012
Sweet Molasses PLUS a Free Crock Cooker Recipe
Tricks, Tips and a Recipe
Sweet Molasses PLUS a Free Crock Cooker Recipe
By: Leanne Ely C.N.C
Happy Tuesday, Y'all!
It's time once again for Tricks, Tips and a Recipe. Today you'll learn a tip, a trick and you'll get a great recipe to try it out with. Neat, huh?
Don't forget tomorrow is the radio show, Saving Dinner with the Dinner Diva! The show is on every Wednesday at noon EST. Bookmark this page and show up tomorrow– http://www.blogtalkradio.com/flylady You can call in LIVE with your questions—about food, cooking, nutrition, anything you can think of! If you can't listen live, you can always listen to the archives.
Today's focus is on: MOLASSES
Molasses is a by-product of sugar making. Molasses is what is left when the sugar is separated from the juice from the sugar cane. There are three grades of molasses: light, dark and blackstrap.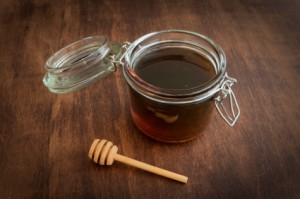 Here's today's TRICK: When using molasses, lightly grease whatever you're measuring it in so it doesn't stick and drops out easily with no sticking.
And here's a TIP: Blackstrap molasses are full of B vitamins and are good for you. Look for them in the grocery store, keep the jar closed up in a dark pantry and it will last a good long time.
And your RECIPE:
Spicy Chinese Chicken
Serves 6
2 1/4 cups low sodium soy sauce
3 tablespoons molasses
3/4 cup low sodium chicken broth
1/3 cup sherry
3 tablespoons brown sugar
3 teaspoons fresh ginger, finely chopped
1 1/2 teaspoons lemon pepper
1/2 teaspoon fennel seed
1 cinnamon stick
6 (4-oz.) boneless skinless chicken breast halves
Combine all ingredients, except the chicken in the slow cooker. Stir to blend well.
Add chicken breasts to liquid in cooker. Cover and cook on low for about 6 hours or so.
Per Serving: 260 Calories; 2g Fat; 33g Protein; 24g Carbohydrate; 2g Dietary Fiber; 66mg Cholesterol; 3830mg Sodium. Exchanges: 0 Grain(Starch); 4 Lean Meat; 2 Vegetable; 0 Fat; 1 Other Carbohydrates. Points: 6
SERVING SUGGESTION: Saute together some bok choy, sliced onions and snow peas and serve with brown rice.