Blog
January 6, 2012
Water, Water Everywhere
Healthy Foods
Water, Water Everywhere
by Leanne Ely, C.N.C.
I need at least one time a year when I can pontificate about the benefits of water for your health. I mentioned it last week, but this week I'm going to give it you with both hoses–you really need this stuff!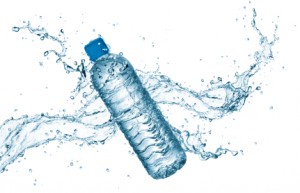 It may be the best weight loss tool you have in your arsenal. Besides naturally suppressing the appetite like I mentioned last time, it helps the body actually metabolize STORED fat! Decreasing water intake may cause fat deposits to increase and stepped up water drinking can help shrink them. Why? Kidney function! Not enough water means the kidneys dump some of their work load on to your poor liver. In return, that puts the liver into overtime working on other things besides one of his main functions: metabolizing stored fat. But if the kidneys are slacking and the liver is working two shifts, something's gotta go and guess what it is? Yep, metabolizing fat.
And if you're overweight, that means your metabolic capacity is greater which in turn means, you need to drink more water. A good rule of thumb for anyone is eight 8-ounce glasses per day. But for every 25 pounds of excess weight, you need another glass. If it is hot outside, you'll need even more.
But what if you're not thirsty? Most of us don't understand that we're under hydrated until we reach the point of true hydration and suddenly natural thirst returns. The body becomes balanced, endocrine function is improved and no more fluid retention–all for just drinking the water your body needs!
I can't exactly give you a good recipe for water here, so here's a great recipe that's healthy and balanced–just what the nutritionist ordered!
Artichokes Stuffed with Smashed Potatoes and Browned Garlic
Serves 4
These 'chokes would make a great dinner if they're big enough! And they're so GOOD!
4 large artichokes
1 1/2 pounds  russet potatoes — peeled and cut into 1/2-inch cubes
2 tablespoons  olive oil
6 cloves garlic, pressed
1/4 cup dry sherry (or use low sodium vegetable broth)
3/4 cup shredded Provolone cheese
1 tablespoon dried basil
Sea salt and freshly ground black pepper, to taste
1 tablespoon grated Romano cheese
Working with 1 artichoke at a time, cut off the stem. Remove the bottom leaves and tough outer leaves, leaving tender heart and bottom; trim about 2 inches from the top of artichoke. Steam artichokes, covered, 20 minutes; cool to room temperature. Gently spread leaves; remove the fuzzy thistle from bottom with a spoon. Meanwhile, make your mashed potatoes.
Place potatoes in a saucepan & cover with water. Bring to a boil. Reduce heat and simmer 12 minutes or until tender, then drain. Mash your potatoes with a potato masher till coarsely mashed. Preheat the oven to 375 degrees.
In a skillet over medium-high heat, heat the oil. Add the garlic and saute 2 minutes or until very lightly golden (in other words, don't burn it!). Remove from heat; add sherry, scraping skillet to loosen browned bits. Then add sherry mixture to potatoes, Provolone, basil, salt, and pepper and mix well.
Stuff about 1 cup potato mixture into each artichoke. Sprinkle the tops with Romano cheese. Place stuffed artichokes in an 8-inch square baking dish, lightly greased. Bake for 20 minutes or until artichokes are tender.
Per serving: 391 Calories; 14g Fat; 16g Protein; 51g Carbohydrate; 12g Dietary Fiber; 19mg Cholesterol; 447mg Sodium.  Exchanges: 2 Grain(Starch); 1 Lean Meat; 3 1/2 Vegetable; 2 Fat. Points: 10