Hello Dear friends!
I'm very excited and thrilled to announce our all new 10 Day Smoothie Detox Challenge! If you've got a vacation coming up that involves a beach or a 4th of July swim party, I've got JUST the thing for you and when you buy our fabulous All-in-One Smoothie Mix, you get the Challenge absolutely F*R*E*E!! That's right, zero cost to you!
Here's how the 10 Day Smoothie Detox Challenge works: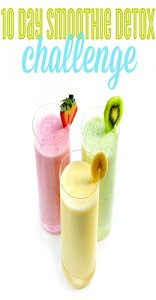 *2 smoothies a day, a balanced meal in the evenings, an approved snacklist so you'll never starve and of course, all the recipes, shopping lists and smoothie recipes to help you make this Challenge a success!
*Amazing support via our private Facebook group. You'll meet other participants, get their help and support (plus mine, I'll be in there!) AND you'll get to share your success with them all!
*We start Monday, June 17th (formally). If you get your Smoothie Mix early, let us know, we'll get you into our private Facebook group for Smoothie Challengers and you can get a jumpstart on the Challenge with our blessing!
This is only for 10 days, it's a quick way to jumpstart some weight loss (just keep thinking about that bathing suit you're going to be wearing!) and know exactly how to do it, with fabulous support and delicious tasting smoothies.

Love,
Leanne
PS–I'll be doing this with you!! It will be FUN!! 🙂