Dear Friends,
If there is one thing our customer service department hears plenty of requests for on a daily basis, it's for more Freezer Menus AND for more specifically Gluten Free menus as well. Well guess what? Today we have BOTH, rolled into one! Yep, 20 for the Freezer (utilizing chicken, beef, pork and fish; 5 recipes each) is HERE!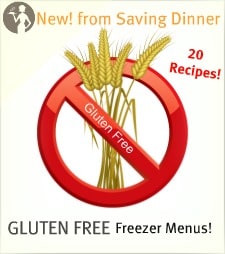 If you're familiar with our Freezer Menus, skip to the next paragraph. 😉 If not, well this is what they are–5 recipes of each meat named above, a master prep and assembly guideline to make 20 different recipes. Then BOOM, put them into plastic bags, then into the freezer and you have 20 prepared meals, just waiting to be freshly cooked! It's much like those dinner assembly franchise places; only fresher and better ingredients. And because it's the quintessential DIY deal, much cheaper too!
Our fabulous new 20 for the Freezer Menu includes delicious recipes like Philly Cheese Steak Casserole, Jerk Pork Medallions with Peppers, Shrimp Creole, Chicken Brunswick Stew and much more…16 more to be exact! Dinners that are satisfying and delicious! All you have to do (once they're assembled and frozen) is thaw and cook them up fresh! No watery, icky twice-baked casseroles–fresh, tasty food. No one will know it was ever frozen; yes, they taste THAT fresh!
All of this, just $20. Remember you get the master directions–preparation and assembly guidelines, how to thaw, cook and serve (with serving suggestions), shopping lists, nutritional information, points (yes the NEW points system!) and how to put all of these snappy dinner kits together. They're fabulous–did I mention that before? Kristy thinks so too, see what she said–
"I just wanted to let you know you have a new fan! I used to frequent the "assemble your dinner and freeze it" places, but I knew there had to be a cheaper alternative. When I tried finding freezer recipes on the Internet, all I could find were casseroles! A friend suggested your web site, and I am so thankful she did. Thank you so much!"
-Kristy
Get your brand new 20 for the Freezer Menu today! Gluten Free and FUN, too! 🙂 And while you're picking up your new menu, enjoy our Pizza eCookbook for f*r*e*e* while you're at it; our gift to you. A delicious ecookbook with 19 different pizza recipes, 5 basic sauces and 5 basic crusts; one of them is GLUTEN FREE, y'all! Spicy Canadian Bacon Pizza is my personal fave, but there's also Pesto Verde Pizza, Sloppy Joe Pizza and Spicy Three Cheese Mushroom Pizza as well many other delicious pizzas you make at home…good bye pizza man!
A $37 value, all of this for just 20 bucks Grab it NOW, tell your friends and let's have a party–this is a DEAL! ==>$20<==
Love,
Leanne