Dear Friends,
One of the most important life skills to teach your children is cooking. It's as important to your child's health as flossing her teeth as a matter of fact! This is how your child is going to prepare his or her nutrition, if you think about it. Later in life to be sure…but if you don't teach them how to choose the right food to eat, prepare it, cook it and finally eat it (with good manners to boot), who will?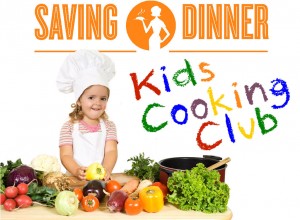 This is why we have created The Kids Cooking Club! Our cooking club is different than just a day at a cooking school–we not only teach a recipe (and we do our easy recipes so they are repeatable–your child will want to make them again and again!), we also focus on a skill to be learned as well as the nutritional values of the food they are preparing. In essence, hands-on nutrition to the nth degree!
But that's not all. Once your child joins our Kids Cooking Club, we will send your child his or her very own apron (on month 3) in the mail and certificates of completion once your child has mastered each level (there are 6 lessons in each level). Once your child has finished up our Kids Cooking Club, you can send your child to college knowing he is well prepared to cook for and feed himself–seriously!
AND just to prove the point, my own daughter has done most of these lessons and is an accomplished cook at 21 years old.  Her freshman year in college, she prepared a Thanksgiving feast for the whole dorm! (I've got pictures on my Facebook page to prove it!).
Here's how the Club works–once you join, we send you a welcome letter as well as that month's lesson. It's a simple pdf filled with everything you need to get going. (I would encourage you to take your child to the grocery store to get his ingredients, too.) Once you have your ingredients (and you, the parent has read through everything), you help your child (as appropriate) get their cooking project under way. Remember, there's a lot of information there–dish it out in bite sized pieces so your children can get every bit of it! They're going to love doing this and you're going to be SO PROUD!
The Kids Cooking Club has an ongoing club membership of only $10 a month (a recurring charge)–this will get your child his or her lesson each month and as a member of the club, keep the extra goodies (like the apron) coming her way!
Join now–get July's lesson now and get started! ===>$10<===
And as our thank you and welcome aboard gift, we are sending your our Manner Minders (little printable cards that help teach your little ones manners), Placemat Template (teaches your child to set the table correctly) and Conversation Starters (having an appropriate conversation at the table is important!). All of these goodies would retail for $10, but today it's F*R*E*E.
Can't wait to see you and your children at the Club!!  JUST $10!!
Love,
Leanne
PS: It's good for all ages! We included different levels of difficulty for you to choose from in each project. We even have ideas of how to include more than one kid!