They're heeeere!
Don't tell me you haven't noticed the prolific pumpkin décor and fall-ness happening everywhere. Or how about those Christmas decorations that have taken over your local big box store? That means only one thing: The Holidays Are Officially (almost) Here!
And what that means, is that it's time to get serious with super-easy dinners. You know what I'm talking about – the kind of dinners that take mere minutes to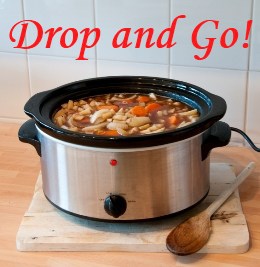 prepare?
Our brand spanking new Drop and Go ebook is the ticket. DROP some ingredients in the crock cooker; GO do your errands, schlepping, shopping, then come home to great meal! Yes it's that simple!
And with amazing recipes like: Chipotle Pork Carnita Bowls, Slow Cooker Beef Pot Pie, Chicken and Kielbasa Gumbo, just to name a few of the 20 sumptuous recipes we've got in this awesome menu! I promise, you're going to love the ease and simplicity of getting dinner on the table, stat!
So what are you waiting for? Go get your Drop and Go ebook right now! And while you're there, we'll throw in our Crock Cooker ebook volume 2! We are firm believers in getting that fabulous appliance humming during the busiest times and right now qualifies!
Altogether, today's bundle of fun would be $57, but we've got an incredible pre-holiday sale for you – it's just $27!! That's a savings of almost 50%!
Love,
Leanne
PS: The Drop and Go ebook is not on the cart and is ONLY available with this special offer! Get yours today!