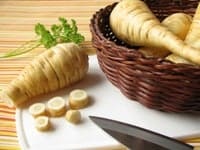 Healthy-Foods
Treat yourself to a plate of parsnips
By: Leanne Ely
If you've not tried parsnips before-those white root veggies that resemble carrots-you don't know what you're missing!
Parsnips are similar to carrots in shape and they are related to carrots, but they don't taste anything like them or any other root vegetables you might be familiar with for that matter. Parsnips are very mild in flavor and, because they're a bit starchy, they're great roasted or mashed in with your favorite root veggies.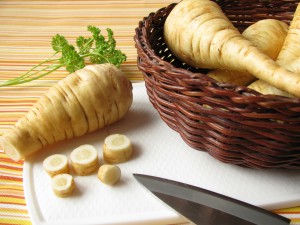 There's also a lot of good nutrition in a parsnip.
Fiber. Parsnips are full of fiber. A cup of sliced parsnip provides you with 6.5 grams of fiber.
Vitamin C. Eating a cup of parsnips gives you 25% of the Vitamin C you need in a day, and Vitamin C is essential for the production of collagen (important in bone, tendon, blood vessel and ligament formation).
Vitamin K. That same cup of sliced parsnips gives you 25% of the Vitamin K you need each day. Vitamin K is important for cell growth and it might actually help prevent you from developing osteoporosis.
Folate. Parsnips are an excellent source of folate; a cup of the vegetable gives you almost a quarter of your daily recommended amount of this important vitamin. Folate is responsible for helping with DNA and RNA manufacturing, and it can prevent anemia.
Parsnips also contain B vitamins, calcium, zinc and potassium.
While parsnips are often the star of the show in Europe, they haven't quite gained the attention they deserve here in North America.
Parsnips make a wonderful stand-in for potatoes in a creamy mash, provide a delicate sweet base for a soup and, shredded raw into a salad, they offer a refreshing crunch.
Pick up a bunch of parsnips the next time you're at the market and try them a few different ways. Or plant them yourself! I've added parsnips to my fall garden and there's nothing to it.
Whether you buy them or plant them yourself, I'm sure you'll enjoy parsnips!
—————————————
PS–Have you seen our new & improved Crock Cooker Club? We'll send you 10 amazing new crock cooker recipes every month, plus if you sign up now you get all the great bonuses! Check it out here!