Dear Friends,
We had a short but great testimonial lately that I had to share:
Dear Leanne,
I LOVE your Morphing Menus! You have helped me regain my love of cooking, saved me a ton of time and gotten my family back to the dinner table. With 2 small kids and one picky husband, that isn't easy. God bless you!
Love,
Liz
Thanks Liz! Glad you're enjoying one my favorite ways to do dinner! ONCE!! 🙂
We LOVE the Now and Later concept–you cook one dinner now, you bag another one up for the freezer for later. It gives you the bonus of dinner this week, plus a whole week's worth of dinner whenever you want it! You make each recipe on this menu each night, and during clean up, you assemble that same recipe freezer-style to enjoy another time! Each recipe has easy to follow, easy to use instructions to help you get your dinner on faster than ever.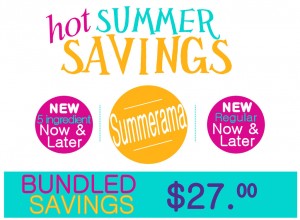 How does Skillet Tomato Pesto Chicken, Serbian Shepherd Pie, Totally Terrific Tortilla Soup, Asian Salmon, Roman Chicken and Cranberry Pork Tenderloin sound? Those are just some of the recipes on our Now and Later volume 1! Volume 2 is equally drool worthy–Spiced Caribbean Chicken, Mexican Fish and Chips and Roasted Vegetable Black Bean Wraps for starters.
ALL NEW is Volume 3 with it's own yummy great recipes like like Garlic Baked Shrimp, Chicken Sausage Ragout and Ancho Flank Steak. PLUS we've done up Volume 4 with a 5 ingredient maximum count–easy peasy recipes you can bang out in no time. Fabulous recipes like Sesame Chicken, Easy Meatloaf, Kidney Bean Chili and Hot Honey-Garlic Drumsticks for starters.
At SavingDinner.com it's never just about recipes; it's about SOLUTIONS. These menus will fill in your Saving Dinner cooking solution collection perfectly–32 dynamite, family-friendly recipes with side dishes, nutrition information and of course detailed assembly directions for the freezer portion and the all-important shopping lists! See what I mean? PLANS, tangible ones that will help you get dinner on the table in HALF the time. These plans are not "just" recipes!
If you love this concept of cooking once and bagging another dinner for later, then don't delay because it's a RED HOT SPECIAL that you will not want to miss, PLUS we've thrown in our FABULOUS Summerama Menu with 20 easy and delicious sandwiches, 6 tasty slaw recipes and 6 chilled soups for those days that you just want to throw a quick dinner together; $15 normally. Today it's F*R*E*E!!
All of this great stuff can be yours today. If you were to buy all of these menus separately, it would cost $55 but as our special it is only $27! That's over 50 % OFF!
But hurry! Once it's gone, it is GONE.
Take advantage of this amazing offer and get it NOW! It's NOT $55, nope! It's ALL for just $27!!
Enjoy!
Love,
Leanne