Food For Thought
Confession time, folks. We are all addicts!
By: Leanne Ely
My name is Leanne and I am a chocolate addict.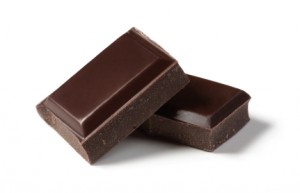 My relationship with my drug of choice goes back to when I was a little girl craving more attention from my father. He once brought back a bar of Cadbury chocolate from a trip to England, and we sat down together and ate the whole darn thing in one sitting. That time shared together felt so good that an instant connection was formed in my brain between eating chocolate and feeling happy.
Throughout my entire adult life, whenever I've been sad or lonely or longing for something, I would turn to my old faithful friend in a foil wrapper.
When I figured out what I was doing—when I became mindful of my addiction—I realized that I can't be a moderate user of chocolate. I don't have a switch inside that allows me to turn off the addiction at will. Chocolate is a powerful addiction and a destructive food for me, and I simply can't have it around, nor can I take a small bite of a chocolate bar without eating every last bite.
It's no different than any other drug. Most alcoholics love the taste of a good stiff drink, but we wouldn't think of offering a recovering addict a martini, would we? Then why do we think it's okay to indulge in our food addictions?
Food is medicine. We can either self-medicate our problems the wrong way—by overindulging in foods that we know aren't good for us (like I did with chocolate)—,or we can eat enough of the right kinds of foods to keep ourselves healthy. The right foods can also help us overcome our food addictions; stuffing fattening foods down our throats without thinking about what we're doing is not benefiting anything or anyone.
Truth is we're all addicts in some way, shape or form. Maybe for you, it's that daily glass of red wine with dinner. Perhaps it's the bowl of chips before bed, or the piece of chocolate at 2pm.
Many of us are muddling through an addiction to sugar and/or carbs, and as far as I'm concerned, sugar is about as addictive as heroin or nicotine. Maybe even more so. It's a lot easier to get your hands on a bit of sugar than it is to get yourself some heroin.
The thought of parting with that tasty friend is like how it must feel for a four year old being forced to give up a beloved binkie.
We all have the power to overcome these addictions. It all starts with feeding our bodies properly, so that our brains are getting all the right carbs, fats and proteins. I'm going to be talking about this very topic with Dr. Hyla Cass this evening during a live webinar that you are more than welcome to participate in. Dr. Cass happens to be a nationally acclaimed expert in integrative medicine, psychiatry and addiction recovery.
There are some changes you can make in your diet to make sure that you're living up to your full brain power potential. You can use nutrition as an ally in your battle against addiction. Dr. Cass will talk to us about how amino acids and certain vitamins can be our weapons as we wage war against an addiction, so this should be an exciting webinar! Get more info here, https://savingdinner.com/addictedbrain
It's easy, really. Ask yourself if you would panic if someone told you that you would have to give up ________ (insert your favorite food here). If you're afraid of changing the way you eat for fear of having to give up that one item, then you know you're dealing with a an addiction.
Tell me, do you think you have an addiction? The answer my surprise you! Fact is, we're all addicted! Check out The Addicted Brain webinar, TONIGHT at 8 PM EST and get your seat, you don't want to miss this. https://savingdinner.com/addictedbrain
Hope to see you on the webinar tonight!