Dear Friends,
I'm just dying to tell you all about our NEWEST and greatest club–it's been a long time coming, but boy oh boy, it's SO worth the wait!
Announcing (insert trumpet blast here): The Crock Cooker Club, y'all!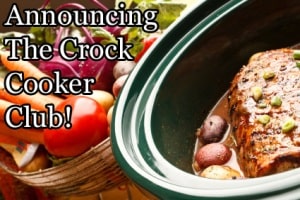 Seriously! You asked for it, you got it. Is that not awesome??
Just like our other clubs, the Crock Cooker Club is a $10 a month club, with the goodies you've come to expect from our very exclusive, very fun clubs.
Here's how it works:
First up, you get 10 great, crock cooking recipes every month for a FULL year – the kind you would expect from SavingDinner.com. Second, you get an exclusive on these fab recipes–they're not going to show up anywhere else, third…we do GREAT fun stuff for our Club Folks!
You can go the $10 a month route or you can pay for the year at $90 and save 30 bucks! How great is that?
It's no secret that we like to do things big around here at Saving Dinner, and this is no exception! When you enroll in the Crock Cooker Club NOW, you'll also receive all 3 volumes of our Crock Cooker ebook F*REE! That's a bonus worth $111 absolutely F*REE! Since this bonus is so huge, we have to limit it to the first 100 customers, so act NOW and grab it before it's gone!
Enroll now, get your super duper bonus and relax knowing dinner is DONE!
Love,
Leanne