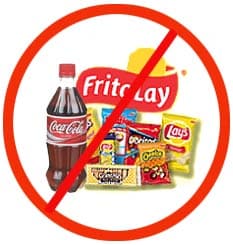 Trying to declutter your house can be a daunting task. Trying to get your daughter to declutter her room is a major act of God. As we went through her overstuffed and massively cluttered room I volunteered numerous things for the declutter bag. Each time, she plaintively whined, "But I like it!" and I would counter, "But you outgrew this outfit a year ago!" or "We have no room for that furniture anymore." Finally, I took her out for a hot chocolate to defuse the situation and explained to her that even though she likes something, there comes a point when it's time to let it go and move on.
The same point can be made with food. Just because you like something doesn't mean it serves a worthy purpose. Take potato chips for example—the perfect analogy to nutritional clutter. Their purpose isn't to feed your body, but just crunchy entertainment for your mouth. They leave their clutter however, on your hips, well-being and appetite. You want more and you have no room for it. Potato chips (or another equally unworthy junk food) is robbing your body of its peace. When you eat junk, you feel like junk.
We need to learn that eating good healthy food is the equivalent of pampering yourself. Like a bubble bath or massage, even. When you feed yourself and your body food that is worthy of your time and effort, you are giving tender loving care to yourself. The good, nutritious food that you need for bodily function (not entertainment) will cause your moods to change for the better, your energy to soar and make your skin glow!
Eating healthy can be a delicious experience, I promise! And because I try to live up to my promises as best I can, I have a healthy recipe for you that your entire family will love.
A quick note: To cut back on the carbs, you can cut the pasta in half and stir in a 10 ounce bag of baby spinach when you add the chicken mixture at the end of the recipe. The heat from the ingredients will cause the spinach to wilt perfectly.
Barbecued Chicken Pasta
Serves 6
16 ounces Rigatoni, Mostaccioli or other medium pasta shape – uncooked
1 tablespoon vegetable oil
4 ounces boneless, skinless chicken breast — cut into
1/2-inch cubes
1/4 cup green bell pepper, sliced thin
/4 cup red onion, sliced thin
1 clove garlic, pressed
1/2 cup spaghetti sauce (your favorite)
1/4 cup hickory-smoked barbecue sauce
1/2 cup grated Provolone cheese
1/2 cup grated Mozzarella
3 green onions– trimmed and sliced thin
1/4 cup cilantro, chopped
Prepare pasta according to package directions. Meanwhile, heat oil in a large skillet over medium heat. Add chicken and saute, stirring occasionally, until browned on all sides, about 3 minutes. Add bell pepper, onion and garlic and cook until pepper turns bright green, about 1 minute. Add Marinara sauce and barbecue sauce and heat just to boiling. Remove from heat.
Drain pasta, reserving 1/4 cup of water and return pasta to the pot. Add chicken mixture and cheese to the pot. Stir over low heat until pasta is coated with sauce. Add enough of reserved cooking liquid, if necessary, to make the sauce lightly coat the pasta. Transfer pasta to serving bowls and top with scallions and cilantro.
Per Serving: 464 Calories; 9g Fat (15% calories from fat); 24g Protein; 60g Carbohydrate; 3g Dietary Fiber; 44mg Cholesterol; 601mg Sodium. Exchanges: 3 1/2 Grain(Starch); 2 Lean Meat; 1 Vegetable; 2 Fat; 0 Other Carbohydrates.
SERVING SUGGESTIONS: A spinach salad would be perfect!
VEGETARIANS: Skip the chicken and add a can (15 oz.) of drained white beans.