Dear Friends,
I got a sheepish email from Nikki today about the state of her freezer. Here's what she said–
*"Last week my best friend had surgery on her foot. She has 5 children ranging from 2-11 years old and a husband that works long hours. This is the same friend that I got together with to "test" our new Freezer Menus. She loved them, I loved them, and we've been using them on and off since then. However, this surgery caught her (and me) off guard. Unfortunately, her freezer wasn't stocked and neither was mine. So here sits my friend, living on sub sandwiches from a local deli that delivers and fried chicken from the grocery store. I felt guilty–I know how to fix this! Sometimes I guess we just have to learn the hard way. So guess what I'm doing this weekend? Yep, stocking my freezer back up and taking freezer dinner kits to my friend."  *
Don't let this happen to you; isn't it great to be able to help out by giving a friend in need a meal? And if it's already in the freezer, all the better.
Click here to save 50% with our Fall Freezer Bundle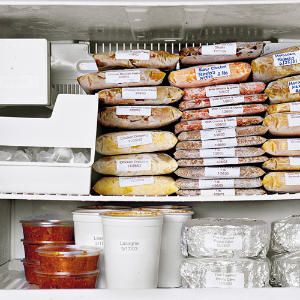 Look what Deidra shared with us on Facebook recently:
*
"Love love love your freezer meal idea. Staci and I had a ball cooking/preparing!! Wonderful idea for a working mom or even a group of friends to get together and do one day! It so easy for me to put together a meal without much to do with a 2 year old tugging at me! Thank you again!!!"
*
Listen, it's not always an emergency that sends us to the freezer but it can be just a busy day in general. Life happens! And now with the holidays right around the corner… we have some of the busiest days of the year coming up!
Click here to save 50% with our Fall Freezer Bundle
Now is the time to prepare our freezers to come to the aid of our family and friends! 🙂 So, in honor of Nikki's procrastination and my heart's desire to not see you in the same place, let's get those freezers stocked and ready to roll.
Here's what you'll get (click on each menu for more information):
Five for the Freezer Chicken Vol 5
Five for the Freezer Crock Cooker Vol 2
Five for the Freezer Pork Chops Vol 3
Five for the Freezer Steak Vol 2
Freezer Side Dishes
Now and Later Vol 3
AND
20 for the Freezer Vol 4
Click here to save 50% with our Fall Freezer Bundle
Love, Leanne