Fantastically Frugal!
SAVE BIG with SavingDinner!
Dear Friends,
I hate to tell you this but the holidays are SERIOUSLY just around the corner! With Thanksgiving coming up in less than a week in Canada and a few short weeks for us in the US, the reality of it all is harsh! But rather than bemoan it, let's get prepared, shall we?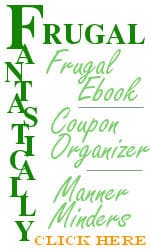 Being frugal is a virtue, but especially this time of year. Think about it–your biggest controllable expense is your grocery money! You know how easy it is to slip into impulse purchases–wouldn't it be great to get a true handle on your food budget, make delicious meals out of less expensive foods and still feed your family well? You can with our Frugal eBook! This book has 4 seasons, 12 menus per season (that's 72 recipes per season), giving you (do the math real quick!) yes, 288 recipes, divided into 48 weeks, all with serving suggestions, nutrition info and of course, the all-important grocery list! So you can save a ton of money and save a ton of time. What's not to like about that?
We do have more to go with that…our fabulous Coupon Organizing Caddy! We're going to help you save some SERIOUS cash with our brand CouponOrganizer. Our CouponOrganizer is a downloadable product with a system that will help you clip coupons, organize them so you can actually use them and give you some hints, tips and tricks so you can get your couponing, ON! Our CouponOrganizer utilizes common office supplies – some you may even have already hanging around the house. We have two different methods and organizational kits to choose from…your choice.
And yes, you guessed we have another added value to this wonderful package–our wonderful Manner Minders. Manner Minders teach your children the good manners you want them to have.  Get your children's manners in shape right in time for the holidays! Our approach uses gentle, rhyming reminders like, "Be wise, be nice and take the clues. The Golden Rules are Please and Thank you's." There are 12 Manner Minders in all with instructions for the parents on how to use. If you start now, your children's manners will be stellar by Thanksgiving! Included in the Manner Minder kit is a placemat template you can print out and teach your children how to set the table. They can color it, laminate it and use it!  if you start right now with our tried and true Manner Minders, your children will be ready to impress your relatives with their exemplary manners!
If you put all of these valuable products together, you're looking at $47 value; today it's all for $27! Almost half off! Don't wait, we'll be done with this sale before you know it and you'll be wishing you had taken advantage of it!
CLICK HERE NOW!

The entire 4 seasons of our Frugal ebook, our Coupon Collection Organizer, and Manner Minders–you'll be ready for the holidays with this great bundle!
Enjoy!
Love,
Leanne