Dear Friends,
We have an AMAZING sweepstakes/contest going on right now on our Facebook pages called Feed Your Freezer. The first price is a fabulous FoodSaver. We have an unprecedented number of entries, it's so exciting to watch!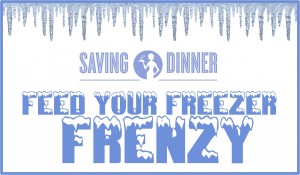 But as we were thinking about this whole idea of actually Feeding Your Freezer, it occurred to us to be able to feed your freezer with our fantastic Freezer Meals is the ticket! We absolutely adore them, especially the 20 for the Freezer menus. These are the ones that give you 4 food "assembly sessions" with beef, chicken, pork and fish–5 recipes each that you assemble together raw and freeze, only to thaw later so you can cook in mere minutes–all the prep work being pre-done, yay! There is a devoted following to this method of cooking–if you've never done our Freezer Meals, NOW is the time. Here's why–
That's right, we are having QUITE the sale–5 of our 20 for the Freezer Menus are on sale for just $47–more than HALF OFF! Great recipes to assemble like Easy Beef and Bean Enchiladas, Greek Burgers and Apricot Barbecued Chicken Legs ready to cook up later at your convenience. Dinner is always at the ready when it's standing by in the freezer!
But what if you could also get Crock Beef and Ale, Peppercorn Chicken and Broiled Ginger Salmon or Veggie Stuffed Peppers,  Blackberry Chicken and Bacon-Wrapped Scallops and Shrimp? You absolutely can! These mouthwatering recipes come from our other 20 for the Freezer Menus…
Yep, we're offering an incredible BONUS like no other you've ever seen and because we're so excited about our Feed Your Freezer Sweepstakes. So get this– we're offering the other 4 menus from the 20 for the Freezer series absolutely F*R*E*E!!! That means you get everything we have–ALL NINE (9) 20 for the Freezer Menus for just $47!!! That's a ridiculous value–you are saving $133!!!
This is the best deal we've EVER offered on our Freezer Menus and fact is, it won't be seen again!
Celebrate your Freezer with our Freezer Frenzy Sale ===> $47 <===  THAT'S OVER $100 OFF!!!
Love,
Leanne