Dear Friends,
Baby its cold outside! Or at least it's getting there here in North Carolina. So in celebration of the arrival of Old Man Winter and in response to our recent Facebook Poll asking you what you wanted to see on sale we're doing a HUGE – One Week Only – 30% off all Freezer Menus sale.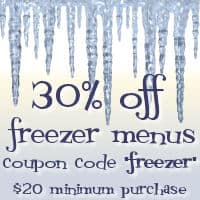 Here's what Celeste had to say about our 20 for the Freezer Menu:
I bought 20 for the Freezer Volume 2 menu long time ago. I had done the version 1 about the same time and had touch and go on the recipes. This time my life is so hectic with 2 girls playing sports and cheering, I am on the go 6 days a week and was really struggling with my weight, energy and making healthy meals in the time that I had. We usually have about 45 minutes to cook and eat on a good day.  I printed the mailer, checked off what I had in stock and went to the store on Saturday.
For a few hours I prepped and assembled. I am not ashamed to tell you that we had sandwiches that night.  LOL!  Last night we had Grilled Chicken with Ginger and tonight we had Tuna Burgers (I substituted the salmon).  DH thought they were the most tender hamburgers he had ever had! LOL!  So far everything has been a rave.  It was nice to have a quick, healthy burger to eat with a fresh salad.
My freezer is full and now my only stress is what am I going to take out for dinner tomorrow!!! I spent $213 at the store and some of that was for other stuff at home!!  I now have a freezer FULL of meals for less than $10 each. Beat that, Mickey D's!!!  Thank you, Leanne.  My family thanks you too.  I am on my third time reading "Body Clutter" and it is finally sinking in.  Thank you again.   ~ Celeste H.
Wouldn't you like to feel the peace and joy in serving up healthy dinners for your family that Celeste and countless others are enjoying?
Fill your cart and your freezer! Simply enter "freezer" as your coupon code at checkout (minimum purchase of $20 for coupon to be valid)
CLICK HERE NOW to see what wonderful menus await you.
Want to learn more about the freezer menus we offer?
20 for the Freezer
10 for the Freezer
5 for the Freezer
Other Fun Freezer Menus
Don't delay! Get your freezer filled up in time for the holidays so you can have one less thing to worry about this year. Don't forget, enter FREEZER in the coupon code box to get your 30% off for one week only!
Love,
Leanne