Warning! Reading below will result in you getting dinner on the table every night AND saving money!
Dear Friends,
We've been flooded with requests to bring this offer back, and we aim to please! You'll want to snatch this one up NOW because we'll be tucking it away for a while after this!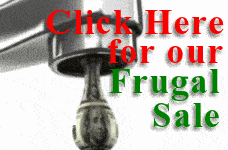 One of the best ways to make a big positive impact on your family's budget is through your grocery shopping habits. Cutting your grocery bill beats out lowering the thermostat or hanging clothes to dry to save money. This one area is where huge cost cutting can come into play. I did this myself when my kids were little and was able to afford the small private school I wanted to my daughter to go to for kindergarten–the tuition came out of our food budget.
Just because the economy is shaky, that doesn't mean your home economy needs to be. Our >>Frugal ebooks<< can help you save significant cash at the grocery store–look at what Katherine told us on Facebook:
"I love your >>Frugal ebooks<<. I just did all my grocery shopping for two and a half weeks (wow!) for my family of six all for 200 dollars. I can't tell you how excited my kids were to have REAL food and not hamburger helper or spaghetti! Thank you for saving our dinner!"
Did you see what she said? Family of SIX, and groceries for 2 1/2 weeks for less than $200. WOW!
So this week's special is really special–all of 4 of our >>Frugal ebooks<<  on sale for just $27. That's 10 bucks off. Let me tell you what's in them–
First off, they're divided seasonally. You get 12 weeks of each season, 6 recipes a week, with the shopping list, nutrition info and serving suggestions. All total, that's 48 weeks, 288 recipes like Caramelized Onion, Spinach and Bacon Quiche, Spiced Pork Chops, Southwestern Crock Meatloaf, Dijon Rosemary Chicken, just to name a few!
All for $27, that's 10 dollars off…but we have MORE to help you!
Also included in this bargain bundle is our famous ebook of Money Saving Tips (250 of them!), plus our fabulous >>Coupon Caddy<<–our own system for using coupons and keeping track of them; together a $20 value. Retail this would altogether be $57, but today, it's $27–$30 off!
Listen, we all want to get fit physically and financially–now is your opportunity to cut your costs and get *fiscal*, LOL.
Click >>HERE<< and get busy —->$27<—–
Love,
Leanne
P. S. Want more Saving Dinner? Simply text "savingdinner" to 468398 for exclusive updates and discounts delivered right to your cell phone!