Dear Friends
Do you agree? It's tough stuff to be a mom these days; there's so much on our collective plates, including making the kids' breakfast in the morning and packing a decent lunch. You can almost hear the sighs of frustrated breakfast makers and the lunchbox remorse from moms frustrated with this whole process of getting the kids fed well and making something they'll eat!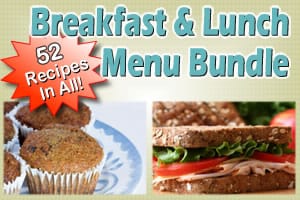 "How can I do all of this?" asks one exasperated mother after the other. Let me ask you, ever feel that way? Is that YOU?
Don't despair, we can help! Saving Dinner might be our name, but Saving Meals of every type is our specialty, even the ones you need to pack!
Enter our Saving Breakfast/Saving Lunch Big Bundle of JOY! Yes, now you can get it done Saving Dinner style–all breakfast and lunch plans done and with an itemized shopping list ready for you to take the grocery store. Even better, our Saving Breakfast menus allow you to do double duty–make a fresh breakfast and freeze another! What's not to love about having a great breakfast ready to go in the freezer? Especially a homemade one, without all the additives. 🙂
We have 3 volumes of Saving Breakfast, with freeze-able recipes ranging from Breakfast in a Burrito, to On the Go Breakfast Bars, to Breakfast in a Cookie (seriously!). That's just a few of the outstanding breakfasts you can make up in advance and freeze (or make up fresh and eat, or both! LOL). Volume 3 will have your crew drooling over Quiche Lorraine, Canadian Bacon and Egg Cups, and Banana Bran Muffins.
And then of course, there is lunch. That never ending saga of having to fill that lunchbox each and every school day. Don't worry, we have that covered too! There's Monkey Sandwiches, Hercules Wraps, Tuscaloosa Tuna Wraps, Macho Nacho Burritos and much, much more; your kids (and you!) will love these lunches.
8 volumes in all, our breakfast and lunch plans will save your sanity and your budget! All told, you get 52 recipes in all (breakfast and lunch) plus, the shopping lists–everything you need to get your breakfasts and lunch done with EASE! You'll never have to fret over getting out the door in time in the morning without an adequate breakfast or a delicious (and healthy) packed lunch!
So start your school year off RIGHT–get to clickin' on over here===> $27 for EVERYTHING <=== That's nearly 50% off!
Love,
Leanne