Dear Friends,
February is Heart Healthy Month and boy do we have our fingers on that pulse, LOL! You might say we march to the beat of different drummer! (okay, I'll stop with the heart puns!)
It's time to get serious.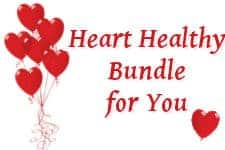 When you consider how heart disease is the number one killer of women (believe it or not, it is not breast cancer), you can understand why we at SavingDinner.com have developed several Heart Healthy menus (plus a Heart-Healthy option in our Menu-Mailer (TM)! ). We take your health seriously and follow the American Heart Association's guidelines on all our Heart Healthy menus *.
To celebrate the hearts and souls of families everywhere, we have a spectacular deal for you, a Heart Healthy Bundle of Humongous Proportions! 5 FABULOUS menus to take you to heart healthy heaven!! Look what it contains:
1) Five for the Freezer Heart Healthy Vol. 1
2) Five for the Freezer Heart Healthy Vol. 2
3) Five for the Freezer Fish, Vol. 1
4) Simply Delicious Gourmet Salads
48 amazing recipes in all, recipes like Moroccan Chicken with Honey Couscous, Turkey Cordon Bleu, White Fish with Mango Salsa, Curried Apple Chicken, Thai Salad, Winter Fruit Smoothie and more! Mouthwatering and delectable–your heart will thank you!
The total value of this wonderful bundle is over $40, but today it's $27 ! We love giving you a deal and we especially love when it's so good for you!
And in true SavingDinner.com fashion, we have a little bonus that we hope you'll love as much as we do–some fun information and 4 delicious recipes on the heart healthy avocado. This is our Fun Foods – Avocado Menu & you're going to love it. That one is on us–we give it to you because we heart you!
To take advantage of this magnificent bundle and find out for yourself just how delicious Heart Healthy can be, you'll need to CLICK HERE!
And remember we LOVE YOU!
Love,
Leanne
*Our heart healthy menus follow the AHA guidelines implicitly. Other menus in this bundle, the Five for the Freezer Fish are not exact to AHA's specifications. Make sure you eat 2 helpings of fish a week and not exceed 1500 milligrams of sodium a day and you will be following the AHA guidelines using these menus as well.