Dear Friends,
NOW is the time for all good women (and men) to come to the aid of their crock cooker! You know what a crock cooker is, don't you? Crockpot + Slow Cooker = Crock Cooker…at least that's what we call 'em here at SavingDinner.com headquarters.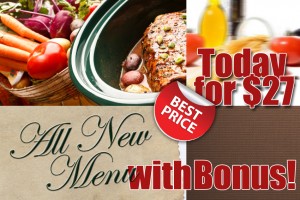 That said, if your little crock cooker is lonely and longing for companionship, maybe it's time you started using him more, yes? Even if it's not lonely, using this amazing kitchen appliance more often will save you gobs of time, energy and money. And who doesn't need more time, energy and money? Having your crock cooker going is like having someone cooking for you all day–when you come home from work, you're greeted with the smell of a home cooked meal! Does it get better than that?
It does! We have a brand spanking new Crock Cooker eCookbook, Volume 3! You asked for more crock cooking, you got it in this fabulous, all new Crock Cooker eCookbook. We're talking 240 recipes here folks and 48 weeks of weekly menu plans with shopping lists, serving suggestions, nutritional information, and gluten free options.
And just to entice you a little, can you imagine serving such delicious recipes like Slow Cooker Garlic Brown Sugar Chicken, Tangy Slow Cooker Pork Chops, Chili Meatloaf, and Texas Style BBQ and they all came out of the crock cooker? We have WAY more than that of course, but I'm trying to protect your keyboard from drool, LOL!
This brand new Crock Cooker eCookbook would retail for $37, but not today! Today we have it for $27, that's $10 off! But that's not all…how about our 20 for the Freezer Crock Cooker menu?
20 recipes, shopping lists and instructions to assemble and freeze ahead meals for later.  This is THE EASIEST WAY to get a healthy dinner in your family's tummies! When you want to eat it, pull it out of your freezer, let it thaw in the fridge for a day and pop it in your crock cooker. Any easier, and it wouldn't be nearly as healthy or economical! This menu features delectable recipes like Greek Crock Chicken, Crock Cranberry Beef and Sweet Onion Pork Chops to name a few. A $20 value, absolutely F*R*E*E.
So what are you waiting for? We're talking HUMONGOUS value for just $27! That's over half off!!
Get it TODAY…you need these recipes in your dinner planning lineup. Save your sanity, save your dinner, save some time!
=====> $27 and you're good to go!<======
Love,
Leanne