Dear Friends,
We know you're going crazy right now. Yes we do!! We are TOO! The kids are home from school, the holidays are here and everything needs DOING! Am I right? Oh and I forgot to add something else into the mix–everyone STILL expects to be fed regular meals! YIKES!
So what's a stressed out, holiday-addled gal to do??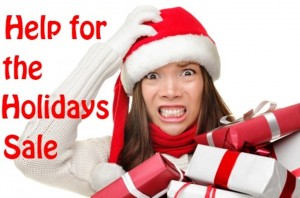 Saving Dinner to the Rescue!!! (TA DA!)
Here's a terrific 3 step strategy that will cover ALL the bases. Check this out:
1) We've got our fabulous best-selling Ultimate Mix eCookBook that you will love for TWO reasons: one, you'll get your pantry stocked with your own homemade spice blends, rice mixes, pasta mixes and more without all the chemicals and for way less $$ than if you buy them from the store. With 48 mix recipes (including 12 bonus muffin mixes) such as Montreal Steak Seasoning, Pizza Soup and Italian Pasta Salad, your pantry will be full and dinner will be a snap! And two, if you double your recipes, guess what? You guessed it, great homemade GIFTS! (Won't your friends be impressed?)
2) We've also got our go-to Pizza ebook with 4 sauce recipes, 4 crust recipes (including a GLUTEN FREE crust) that you can mix and match to go with all the pizza recipes (32 recipes, including Chicken Broccoli Pizza, Breakfast Pizza, and Loaded California Pizza) in the book–the possibilities are endless! In a word, this ebook ROCKS! Save yourself some $$ and let the kids make their own pizza!
3) Lunchtime comes once a day, y'all! Don't panic, we're here to save your daytime meals too with our newest Saving Lunch menu which includes Avocado Turkey Wraps, BLT Wraps, Mediterranean Tuna Wraps and Hawaiian Ham Wraps. These babies will put your typical peanut butter and jelly sandwich to shame!
Look at that, 3 steps and you've basically handled the holidays! How do you like that? We knew you would and that's why we're giving you all of these great meal saving tools for the price of just the Ultimate Mix eCookBook, $27! That means the Pizza ebook and Saving Lunch menu are FR*EE! (a savings of $24!!!).
Get it now, don't wait…the holidays are here, the holidays are here! HO HO HO!  ===>$27<===
Love,
Leanne