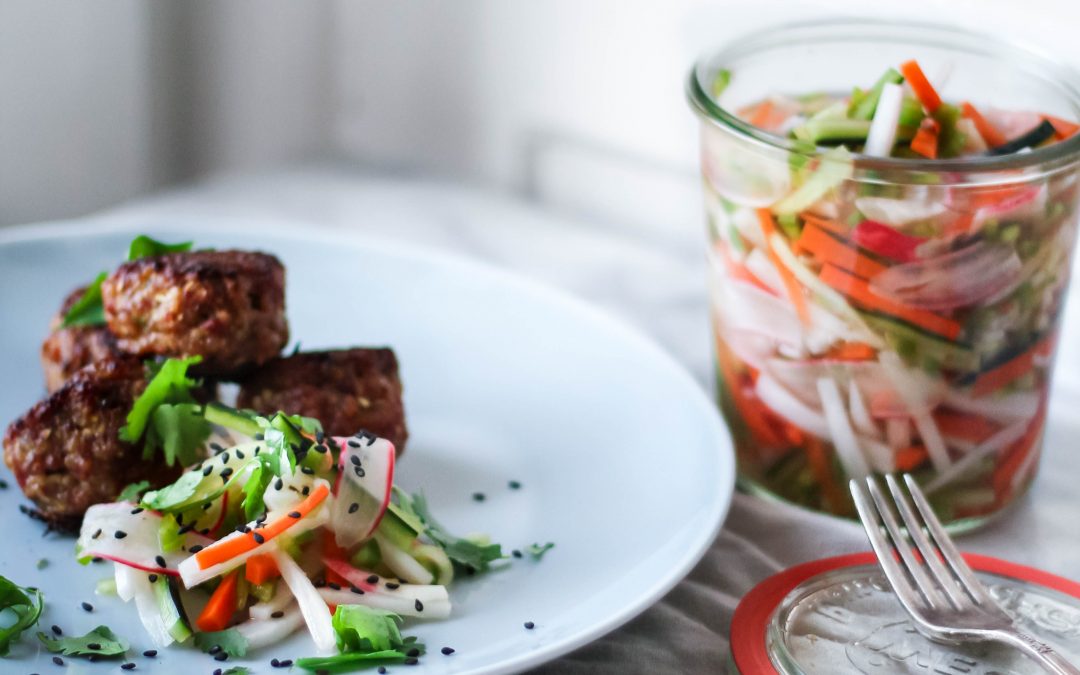 These flavor-packed meatballs and slaw are SO DANG GOOD!!!! They make a great starter/appetizer OR are satiating enough to be a meal on it's own! After you make these, you're gunna immediately file them under "recipe favorites" - we sure have!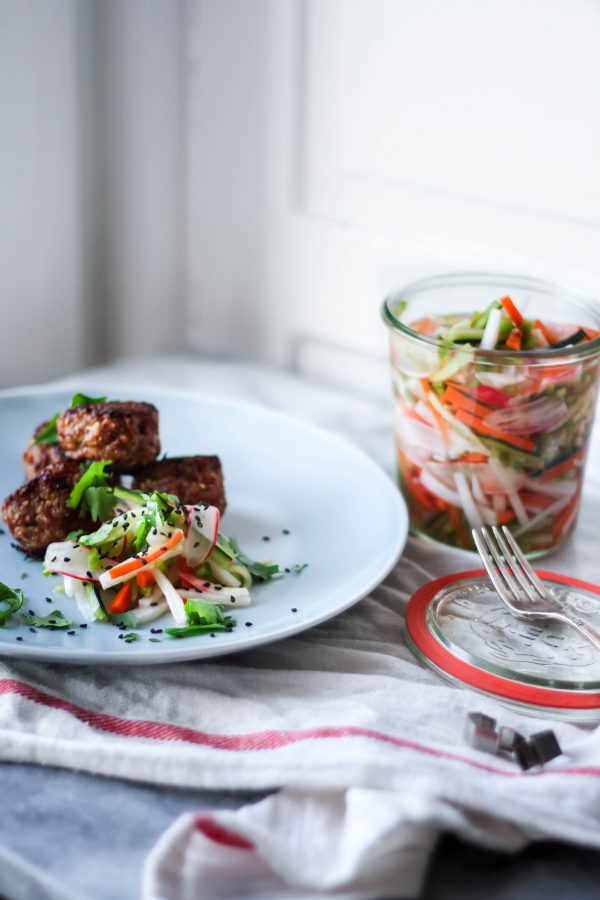 | | |
| --- | --- |
| | |
FOR QUICK PICKLED BAHN MI SLAW:

In a small pot over medium heat, mix together vinegar and honey. Just heat enough for the honey to dissolve completely into vinegar, mixing as you go, and once it's fully dissolved, remove from heat and allow to cool for 15 minutes.

In a medium bowl, mix together next 7 ingredients (carrot through pickled ginger brine). Once mixed, transfer slaw to a medium sized jar (12 to 16 ounces). Pour vinegar mixture over the top until it's fully saturated all the veggies. Seal jar and place in refrigerator for at least 2 hours before eating.

FOR PORK DUMPLING MEATBALLS:

In a large bowl, using clean hands, combine all remaining ingredients EXCEPT cilantro and sesame seeds (pork through salt).

Cover with plastic wrap, and place in refrigerator for at least an hour before cooking or overnight.

At time of cooking, remove meat mixture from refrigerator. Preheat grill to medium high heat.

Shape meat into 1 to 2 inches in diameter balls. Grill for about 15 minutes constantly rotating, or until cooked through.

Serve with a side of Quick Pickled Bahn Mi Slaw and garnish with cilantro and toasted black sesame seeds.
Another cooking option: after shaping meatballs, gently flatten them so they become small patties, and you could serve them as sliders with the slaw on top - and maybe on top of a parboiled cabbage leaf cut to the proper size for the slider.