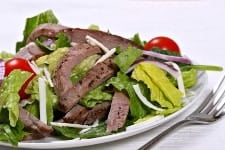 Main Course Salads Keep Dinner Cool in the Summer Heat
When I take a look at my calendar, I find it hard to believe that it is already the middle of summer. When I step outside, however, I am immediately reminded that yes, summertime is upon us! I know it is only going to get warmer and the last thing I want to be doing this time of year is turning on my oven. Instead, I want to get outside and fire up my grill! I also want to keep it healthy, so I turn to main course salads to take the burn out of the summer heat.
Here's a great main course salad recipe that will help you keep you both cool, and full!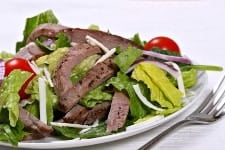 | | |
| --- | --- |
| | |
Preheat grill to MEDIUM-HIGH.

Rub steak with oil and garlic and grill until it reaches desired level of doneness; remove from skillet to a cutting board and allow it to rest for about 10 minutes.

Meanwhile, arrange lettuce on dinner plates; evenly add cucumber, tomatoes and red onion; slice the steak and arrange it on top.

Garnish with bleu cheese.
Per serving: 472 Calories; 30g Fat; 37g Protein; 16g Carbohydrate; 5g Dietary Fiber; 109mg Cholesterol; 577mg Sodium.
Exchanges: 4 ½ Lean Meat; 3 Vegetable; 3 Fat.