Dear Friends,
In 2003, we began to get a ton of emails asking us to produce a low carb version of our popular Menu-Mailer. I hesitated for a long while, did some research and tried it myself. It made so much sense, I felt so much better, so in 2004, we introduced the world to Low Carb Menu-Mailer. Yes, 2004! It was because of YOU that the Low Carb menu came into being (and it was because of our Low Carb Menu-Mailer that I lost 52 pounds way back then!)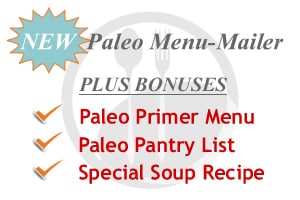 Fast forward to 2012 and it's deja vu! We are getting tons of emails asking us to produce a Paleo-friendly Menu-Mailer. I have hesitated for a long time, but began doing a ton of research to see if it was a good fit and wow, is it ever! I am finding this way of eating not only completely, 100% logical and smart, but also a fat shredder–I've lost 5 pounds since Christmas without dieting at all! Yes, this is how I eat and it's working its magic in my life too!
The original Menu-Mailer was born in 2001: a menu, recipes, shopping list and serving suggestions all delivered to subscriber's inboxes weekly. We added on a low carb version, a heart healthy version and next Tuesday, January 17th, 2012, we will have a Paleo version. And just like it's Menu-Mailer predecessors, this Paleo Menu-Mailer will be delivered to your inbox week after week. I am completely blown away by this way of eating and so is Cherish–read what she wrote on my Facebook page:
"I've lost 18 pounds in the last 2 months by going paleo. I have to confess that first month was weaning myself off the bad stuff. I didn't even change my exercise habits, in other words I wasn't exercising. However I also lost my headaches, the wheeze that I get at the top of the stairs or when I walk home from the bus stop, most of my arthritis problems, the arm acne, the moodiness…all while keeping my coffee." ~Cherish
I invite you to try this style of eating; it is astounding how well-fed, happy, content, clear skinned, flat bellied and satisfied you'll be! If you sign up for Menu-Mailer today, you'll get these cool bonuses:
*A Paleo Primer Menu that has 27 basic paleo recipes, a link to all the latest scientific research on the paleo diet, plus a compelling video you have to see to believe
*A Basic Paleo Pantry List
*My amazing soup recipe, Leanne Mitochondria Miracle Vat of Soup. I'm telling you the soup alone is worth its weight in gold!
To get these special bonuses, you just need to sign up for our Menu-Mailer OR extend a subscription you already have. Remember, included weekly is: Regular Menu-Mailer (family style), Heart-Healthy, Low Carb and the new Paleo! Plus we have the daytime, Body Clutter menu with each week's selections as well!
So what are you waiting for? Now is the time! Get Menu-Mailer now just $15 for 3 months OR buy the whole year for $47!
Or choose our Premium Menu-Mailer for just $10 a month and pick and choose which recipes you want from any of our menus and automatically make your customized shopping list! You can also add your own grocery items to the list for a truly, one-of-a-kind way to get your grocery shopping and meal planning DONE. There's also a one year option for just $90 (that's like 3 months FR*EE!).
And don't forget, each new subscription (or renewed subscription) will get these fabulous bonuses! Get yours today!
Love,
Leanne