Dear friends,
Last night, my friend Dr. Sara Gottfried (a Harvard trained gynecologist) was in the house and she rocked it out like NO ONE. It was girl talk like you've never heard. Sara laid out all the reasons you feel like crap (hormones again!). BUT she explained how to get a handle on them! Not the usual junk you've heard over and over before; but actual, doable stuff that made sense and easy to implement, too. I have to tell you, I was taking notes during this webinar with everyone else! GREAT info that you need to know if you're a woman.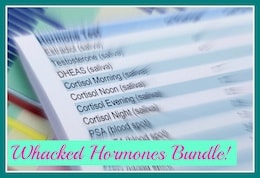 Sara graciously agreed to sell her $397 program to our audience for only $97 (we added some great menu planning helps that augment her protocol; they're in the bundle and you can see it all here!
I am half way through her program and I cannot tell you how many times my jaw has dropped. Listen, I've STRUGGLED with thyroid issues for 10 years! I've got Hashimotos, an autoimmune disease that is no fun and very difficult to treat. I've been to top doctors all over the country. But Sara's program would have saved me so much time, energy and money if I had only had it sooner. Sara explained the 3 hormones needed to be optimized to feel good (she calls them The Charlie's Angels of hormones, lol) and of course, thyroid was one…hugely important info about getting your thyroid in line, I wish I had this information 10 years ago!
I could go on and on. Yes the program is that good. If you want to feel like your "old self" again, check it out!
And one last thing. I know Sara Gottfried, MD. in the flesh. She's not some random gynecologist who's written a book. She's a passionate woman on a mission wanting to get this information out to help 1 million women feel their best. How awesome that? Plus she's a terrific friend, I just love her!
That's all I have for you. I just want you to get this info and start feeling great. If you do nothing else, please just listen to the webinar. There's life changing information there, I promise!
Love,
Leanne
P.S.  I can't believe the deal Sara has put together for us here.  This price won't last long, so go get yours now click HERE!