Dear Friends,
I'm so excited!! I almost didn't sleep last night, that's how excited I am!! Wait till you see!!
We've done a complete revamp on our Premium Menu-Mailer AND we've added VALUE like you just won't believe! Want the details?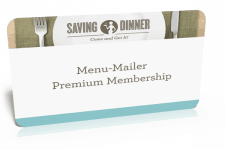 Check this out! Premium Menu-Mailer allows you to customize your weekly menus and shopping lists exactly the way you want to!  Our all new and improved Premium Menu-Mailer allows you to pick recipes you like from our 3 different menus (Regular Menu-Mailer, Low Carb & Heart Healthy) each week, (well 4 really, when you count the Body Clutter day menu) and make your own customized menu and customized shopping list!
It's super simple to use; everything is RIGHT there (menus AND recipes included on the same page now), just point and click and away you go. When you click on a recipe, the ingredients magically start creating the list–is that cool or what?
By the way, we JUST got this comment from Dana in customer service yesterday, "Thank you! I love the new format, super easy!"
Here's the best part: as your membership continues, your very own personal database of menus and recipes will develop and you can pick and choose from what you have in your own stash. Say you loved a chicken recipe from 3 weeks ago and want to replace a recipe in this week's menu. No problem, just find your recipe and make the swap–the grocery list will automatically fix itself to accommodate your changes.  Plus you can add stuff like dog food, paper towels and whatever else you need from the grocery store; it's a one stop grocery list! And here's my personal favorite feature: you can email your list to your phone or your hubby's! How's that for the Easy Button, LOL!
And get this: it's only $10 a month AND it INCLUDES Menu-Mailer! That's brand new. Before today, you had to be a Menu-Mailer subscriber and then had to add the Premium level. NOW if you're a Premium Menu-Mailer subscriber, you automatically get Menu-Mailer. That's right, you get it ALL! How's that for amazing added value?  You'll be saving over $47 a year with Menu-Mailer added in and doing dinner the Premium way for less than $2.50 a week!
Want to save EVEN more? Buy your whole year of Premium Menu-Mailer for $90 (retails for $120) now and save $30!
Obviously, you're interested in feeding your family healthy meals and it goes without saying that gathering around the dinner table is important to you. Now you can do this so much easier and better than ever! How happy are you going to be when you make your grocery list the way you need it done, send it to your hubby's phone and have HIM pick up the groceries? Can you imagine?!?
Click here to get started–I'm thrilled it's HERE!!!  —-> CLICK <—-
Love,
Leanne
PS…I almost forgot! We're also GIVING you our fabulous Saving Breakfast/Saving Lunch bundle when you get our new Premium Menu-Mailer subscription–that's a $27 value and we're giving to you absolutely FR*EE!!