Dear Friends,
As you know, we love finding new solutions to that question of what's for dinner. We do it regularly as a matter of fact, because there's more than one way to feed your family.
Our website is getting crowded. We have some great new menus coming your way and need to make room for the newbies, so we're throwing a Vault Party for our wonderful Winter Menus.
We have 8 Menus we're throwing back in the vault. $70 retail, we've got them on Special for $27. Yes you read that right.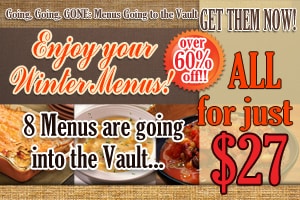 8  Menus are going into the vault:
*Savory Soups, Volumes 1 & 2
*Simply Delicious Casseroles, Volumes 1 & 2
*Simply Delicious Soups, Volumes 1 & 2
*Soups, Stews and Chilis
*Casseroles to Soup
Everyone loves our Savory Soup menus! With recipes like Hearty Chicken Stew, Winter Roasted Veggie Soup, Garlic Potato and Ravioli Soup (just to name a few), you fill your family's tummies with warm homemade soup! Menus include nutritional info, serving suggestions and shopping lists.
When we say "simply delicious" we mean it and our Simply Delicious Casserole menus will fulfill that promise! Check this out: Smokin' Chipotle Mac & Cheese, Inside Out Chicken Divan, French Quarter Shrimp & Grits, Chili Relleno Casserole and Bake Potato Casserole, just name a few from those delicious menus.
We also mean SOUP from the Simply Delicious collection-deliciousness like Easy Cheesy Pizza Soup, Spicy Asian Noodle Soup, Amigo Chicken Tortilla Soup, Beefy Barley Soup, Crock Potato and Corn Chowder, just a few of the fabulous soups you'll get from the Simply Delicious Soup Menus, Volumes 1 & 2.
With our Soups, Stews and Chilis menu, you'll get 15 recipes with exceptional flavor, soups like Enchilada Soup, stews like Chicken Pot Pie Stew and chilis like Smokey Italian Chili.
All in all, there are 75 comfort food recipes.
And remember, at SavingDinner.com it's never just about recipes; it's about SOLUTIONS. These menus will fill in your Saving Dinner cooking solution collection perfectly– dynamite, family-friendly recipes with side dishes, nutrition information and of course the all-important shopping lists!
If you love comfort food, then don't delay because it's a RED HOT SPECIAL that you will not want to miss. Once this it's gone, it is GONE. If you were to buy all of these menus separately, it would cost $70 but our Vault Party special is only $27! That's over 60% off!! We're crazy to do this, but we need the space for the new stuff!
Take advantage of this amazing offer and get it NOW! It's NOT $70, nope! It's ALL for just $27!! CLICK HERE for more information.
Enjoy your winter menus!
Love,
Leanne
PS: Once this menus are in the vault, they're GONE! Get them NOW ==>$27!