IMPORTANT NOTE!!
Please read this email carefully
Gift Certificate codes will be emailed to you within 24 hours
Save 50%!!!!!
Dear Friends,
So guess what? Mother's Day is just around the corner. I know there's a little goodie at Saving Dinner you've been eyeballing. Something you'd love to have, just for you and today you can get whatever it is you want for half off when you use our fabulous gift certificates. What better gift is the gift of DINNER for yourself and all your friends?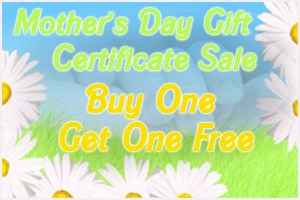 THIS is the time to get the best deal we will ever offer on our gift certificates… oh yeah, you DO NOT want to miss this!
Listen, what I'm talking about is a BOGO (Buy One Get One). How can you NOT love that??? Buy one/get one FREE! We have this incredible sale from NOW through TUESDAY and that is IT! Buy one gift certificate and we'll give you another one FREE! Limit is TEN, then you're done. 🙂
(Do not add the free one to your cart. We'll send you double of whatever you order.)
Buy one, get one. Take care of your yourself and your family, with the gift of DINNER.
Do it NOW…. CLICK HERE!! Happy Mother's Day!!
Love,
Leanne
PS: We always have a HUGE response to this very rare sale. Please be patient in receiving your Gift Certificate codes (which will be emailed to you). Each Free Gift Certificate will be processed by hand so please allow up to 24 hours to received your code. HOWEVER, if you have not received it after 48 hours it may have been caught by your spam/junk mail filter by your email provider (we have no control over this) so please contact us at [email protected] and include your full name and email address so that we can get your Gift Certificate codes to you. 🙂
PPS: Please note that you can only redeem one gift certificate per purchase. Keep that in mind when you choose your 'size' 🙂